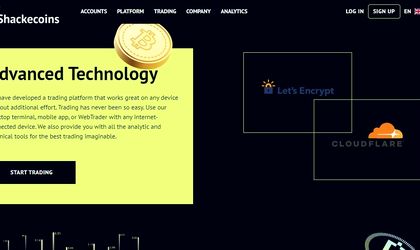 Trading in the forex market can be quite challenging. Yet with the growing inclination towards this market, the brokers have made it quite easy for the traders. If you are selecting the right brokerage platform, your trading journey is going to remain smooth.
Often selecting the right broker can be quite stressful. The reason being the number of brokers mushrooming at every corner – makes it quite difficult to choose the right one.
ShackeCoins is one such broker that has blown away the mind of the clients with exceptional client service and a great product base. They have been doing pretty good when it comes to Forex trading.
But what makes a trading platform really stand out?
Is it the strong customer support or the great product ideology?
Research says it's a combination of both. 
Close to 30% of the traders believe that customer support is very crucial when it comes to a brokerage platform.
In this article, we'll find out three such points that make a brokerage platform stand out amongst its competitors.
What makes a brokerage platform stand out?
There are many reasons for a brokerage platform to be better than the rest. Other than the customer service, it's also the ease with which an account can be opened.
Here we are going to list three important criteria which we believe sets a brokerage platform apart.
Robust technical analytic tools:
The robust technical tools ensured that every trade being taken is thoroughly analyzed. A proper analysis becomes crucial when taking a trade. Technical analysis provides in-depth research into the future price movements. For the Forex market, this becomes crucial as there is high volatility with the volume of transactions. These analytical tools enhance trading accuracy.
Excellent product bifurcation:
Often the products being provided by the brokerage account are not sufficient for the traders. Product bifurcation always means catering to the right customer needs. Once the customer needs are being catered to, then every customer is going to be happy. ShackeCoins makes it a priority. With multiple account types available for the users, every trader, irrespective of their trading journey can trade using ShackeCoins.
Ability to trade wherever you want to:
The world is slowly becoming borderless. What it also means is that we don't want to be confined within the walls of our homes during work. One of the best features that every great trading platform has is having a trading platform available on mobile, desktop, and in-app. ShackeCoins is loved by users for this feature.
Bottom line
Having the right trading platform will ensure that your forex trades had been taken in the right direction. It is very crucial since you don't want to end up taking wrong trades and burn your cash. ShackeCoins has established itself as a renowned brokerage platform amongst international clients. Sign up with them right away.