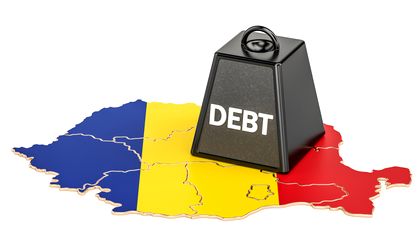 Romania's total external debt, public and private, reached in July an all-time high level of EUR 107.6 billion, due mainly to rising public debt, National Bank of Romania (BNR) data show.
The total external debt was EUR 103.67 billion at end-June. Compared to December 2018, Romania's total external debt rose by EUR 8.2 billion.
Long-term public debt rose this year by EUR 5.6 million, to EUR 40.4 billion at end-July, following several government Eurobond issues.
In the same time, the non-publicly guaranteed debt (mostly private) declined by EUR 317 million, to EUR 31.69 billion.
The rising public debt was mainly due to soaring public deficit, which increased by 52 percent in January-July on much higher wage and interest spending.
However, most experts estimate that the ratio between total external debt and GDP will continue to decline due to higher GDP growth rates.
"We forecast the decline of the external debt / GDP ratio to 43 percent in 2021 (from 49 percent in 2018)," Banca Transilvania chief economist Andrei Radulescu said in a research note.
The total long-term external debt amounted to EUR 73.33 billion in July, up 7.9 percent compared with December 2018.
But the short-term external debt also increased by 9 percent up to EUR 34.28 billion.
Long-term external debt service ratio ran at 17.6 percent in January – July 2019 against 21.2 percent in 2018.
At end-July 2019, goods and services import cover stood at 5 months, as compared to 4.9 months at end-2018, according to the central bank.