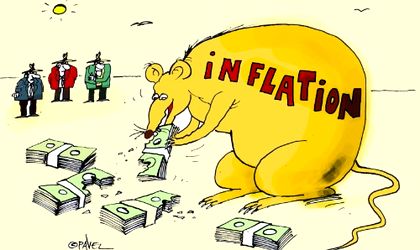 Romania's annual inflation rate rose to 5.41 percent in May, a record level since February 2013, food prices increases having a large contribution to the surge in consumer prices, National Institute of Statistics (INS) data show.
This was the biggest annual inflation rate since February 2013, when the inflation stood at 5.65 percent.
Compared with the same month of last year, the prices of food products rose by 3.9 percent on average, while non-food products increased by 7.8 percent. The prices of services went up by 2.7 percent.
Compared with April, the biggest price increases were recorded for potatoes (11.4 percent), other vegetables (7.1 percent), fresh fruits (3.9 percent) and fuels (1.7 percent).
The price of fuels rose by 5.7 percent compared to December 2017.
The central bank has an inflation estimate of 3.6 percent for December 2018.
In April, Romania maintained its position as the country with the highest annual inflation rate among the European Union member states, of 4.3 percent measured by Harmonised Indices of Consumer Prices (HICP), according to Eurostat.
The HICP index used by Eurostat measure price with an unified basket of consumer products and services for the 28 member states.
But the Romanian basket of consumer products and services, which includes a higher percentage of food products (33.2 percent of total basket), shows a different picture.