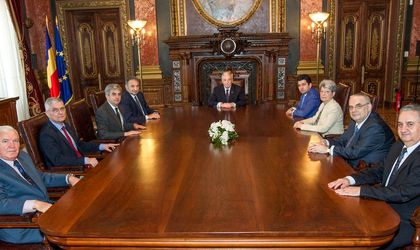 The board of National Bank of Romania (BNR) has decided on Wednesday to limit indebtedness-to-income rates for all individuals taking loans from banks to 40 percent for RON loans and 20 percent for hard currencies loans from January 1st, 2019, the central bank said in a press release.
UPDATE: BNR strategy consultant Adrian Vasilescu said, after the BNR's announcement, that the new rules for loans passed by the BNR refers mostly to small loans, which are also the most dangerous, but that there won't be any major change in mortgage loans.
"Larger loans, for homes, generally had low non-performing rates. The most non-performing loans were for smaller credits. Generally, there hasn't been an avalanche of home-buying in Romania and there won't be one anytime soon, unfortunately. While in the United States 20 percent of loans were for consumption and 80 percent for mortgages, and coming over to the UK, France, Germany, the share of mortgage loans also stood around 70 or 80 percent, around 50 percent in Poland and the Czech Republic, 40 percent in Hungary – in Romania, mortgages don't cross the 20 percent threshold of the total number of loans. We'll stay around this number. Generally, people who have money to buy a home also have a higher income. So there won't be major changes in mortgages," Vasilescu said.
——-
The current indebtedness-to-income rates are 47 percent (average of the market) for mortgage loans and 45 percent for consumer loans, according to central bank data.
The central bank also removed all other conditions for granting loans to individuals and allows banks to ignore new indebtedness-to-income rates for 15 percent of their new loans portfolio.
The new rule was discussed by banking sector supervisors during the last few months.
Earlier in the day, sources told BR that an official announcement on this matter will be made by the central bank.
During the last year, there has been a lot of debate in Romania about limiting the degree of indebtedness for the population within the central bank.
In August, when asked by journalists when such a measure could be implemented, BNR governor Mugur Isarescu answered: "Around September. We have already discussed with the banks. We don't want to strangle lending."
BNR has limited the consumer credit in 2011 as many Romanians were severely hit by financial crisis and nonperforming loans (NPL) rate was rising.
The NPL rate has declined to 6 percent this year, according to the latest official data.