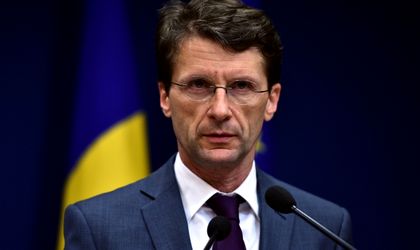 National Bank of Romania (BNR) spokesman Dan Suciu claims that the depreciation of the Romanian leu cannot be linked to a speculative attack, even though the euro reached a record level of 4.7569 lei on Wednesday, but confirms that there were some pressures on the exchange rate related to a lack of credibility for investors holding the RON currency.
"I wouldn't call it a speculative attack. There are many elements here – we have a background situation, one of conjuncture and a momentary one. All three contributed to the result, namely: a lack of credibility for investors holding RON and who are starting to let go of their holdings. That is where the pressure is coming from. Let's remember that the RON is a convertible currency. We can go abroad and pay with our RON card without any issues. So it is traded on international markets too,  not just on the Romanian market. Thus, the credibility of the local situation is extremely important in setting expectations. The lack of credibility is really what worries us more than anything else," Dan Suciu told Digi24 on Wednesday.
He stated that there was a problem of "setting investor expectations", as people "in the market, at state level and on television" are talking about an interest rate mark, "the famous 2 percent interest rate", which is something else than market interest rates.
"Any investor can make an analysis and see that the initial calculation doesn't look like the 2 percent interest rate that's always being discussed, and they start to look at it with some concern. I think this is the word that defined the day – a concern about what's happening on the foreign exchange market. We need to reset the balance on the foreign exchange market, as well as on the inter-bank interest rate market," Suciu added.
In his view, interest rates should not be set by laws, but by markets, "whether we like it or not", and the rates depend on the economic conditions in any given market.
"We may be able to control things on the internal market, but international markets are extremely strong and they tend to react quickly," he said.
Asked what the BNR can do at this point, Suciu replied: "It is a dilemma we are facing at the BNR at the moment – how to find this balance between exchange rates and interest rates."
He noted that he cannot anticipate exactly how long this reshuffle would take, because decision-makers have not clarified their plans regarding fiscal and budgetary stability and predictability.
The RON recorded its seventh consecutive day of depreciation on Wednesday, reaching a historical minimum of RON 4.7569/euro.