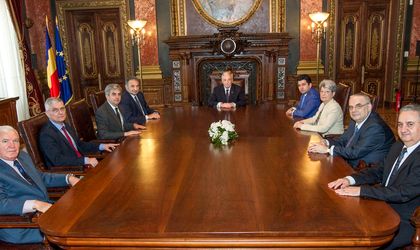 The National Bank of Romania (BNR), Romania's central bank, decided on Monday to maintain the monetary policy interest rate to its current level of 2.5 percent for the tenth time in a row, despite rising inflation much over BNR's target.
"In its meeting of 5 August 2019, the Board of the National Bank of Romania decided the following: to keep the monetary policy rate at 2.50 percent per annum; to leave unchanged the deposit facility rate at 1.50 percent per annum and the lending facility rate at 3.50 percent per annum; to maintain the existing levels of minimum reserve requirement ratios on both leu- and foreign currency-denominated liabilities of credit institutions," the central bank said in a press release.
In theory, central bank's main job is to keep inflation under control and the monetary policy rate is one of its major tools in reaching this target.
Higher interest rates limits credit demand and consumer spending – and finally has an impact on consumer prices.
But the Romanian central bank seems to choose a dovish stance despite high inflation rate in order to avoid a new dispute with the leftish government.
Central bank's decision was expected by the economists.
"We believe that the central bank will keep the key rate on hold at 2.50 percent and possibly downplay a bit its reference to 'strict liquidity control'," ING Bank analysts said in a recent report.
On May 7, 2018, the central bank raised the monetary interest rate from 2.25 percent to 2.5 percent, the highest level since February 2015, as a consequence of upward revision of the inflation forecast.
Romania's annual inflation rate rose to 4.1 percent in May. The current BNR forecasts show inflation rising to 4.2 percent in December 2019.
It is the second monetary policy decision after Mugur Isarescu, currently the longest serving central bank governor in the world, secured another 5-year term at the head of BNR as it won the support of the ruling governing alliance and of opposition parties.