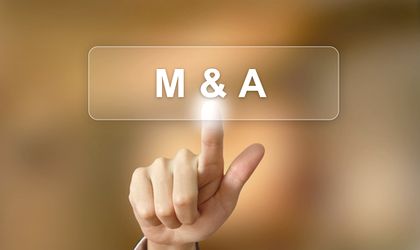 The mergers & acquisitions (M&A) market in Romania remained at a high level in 2018 even if in recorded a decrease of 12 percent, according to PwC Romania data. The depreciation was in line with the evolution of Central and Eastern Europe.
In terms of volumes, over 170 transactions registered last year in Romania amounted to approximately EUR 5 billion. The amount takes into account the values ​​of the transactions made public, but also estimates and projections of the values ​​in cases where price data were not available from public sources.
The number of transactions is increasing compared to previous years, when there was an average of 130-140 transactions per year. This reveals greater transparency and market confidence.
"There is pressure in the market to increase expectations of added value generated by a transaction. Achieving this goal depends on the ability to identify and capitalize on synergies and to integrate the assets of the acquired entity. Many times, the purchase is not just for a position in the market, but it is buying a technology or asset that is more valuable than it's reflected in the company's financial statements," says George Ureche, transaction team leader, PwC Romania.
For 2018, the report shows that the most effervescent areas were IT & C, medical services and pharma, real estate and industrial production. In 2017, there was also in the financial services sector. Even though transaction values ​​have not been published in all cases, over the past few years, approximately 15 transactions of over EUR 100 million have been recorded annually. The total market value was influenced each year by the number of transactions over EUR 100 million. The annual average value was constant around EUR 30 million. If large transactions are excluded, the market average reaches about EUR 14 million per transaction.
"The large number of transactions recorded in 2018 reflects the effervescence of the market. 2017 and 2018 were for Romania the years with the highest value of trading activity, surpassing the peak from 2006-2008. At present, the financing and growth opportunities of Romanian companies are on the capital market as well as in the merger and acquisition area (private transactions). The partial or total sale of the business to an investor with both financial strength and openness to markets that could not be addressed by the time of the transaction is a growth path that more and more Romanian companies are considering," says Anda Rojanschi, Partner D & B David and Baias.

"For the year 2019 we anticipate a somewhat similar evolution, both in terms of market value and number of transactions. There are projects already started in several sectors, and their successful completion depends to a large extent on the economic and legislative stability of the country. If these elements are met, we shall see a very good year for the merger and acquisition market," said Ureche.