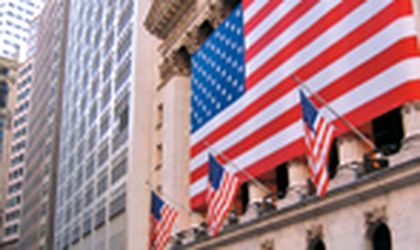 Thousands of miles from here, banks and insurers are falling like dominos in a crisis that has already teethed and blown out its one-year candle. Hordes of Lehman Bothers employees are flooding recruiting websites, Merrill Lynch is sighing in relief under the wing of Bank of America and AIG is readily joining the list of government bail-outs. What does the new wave of bad news bring over to this side of the Atlantic and especially to Romania?
By comparison to the US, Romania is a rosy-cheeked economy whose only major worries are a falling capital market just like anywhere else in the world, and a generous, but hopefully narrowing, current account deficit. Oh, and its "emerging economy" status, which is exactly where its Achilles' heel might be.
"If we see the recent events on Wall Street as a dramatic and widespread recalculation of risk, then everyone everywhere will be affected. One of the things that takes place in a context like the one we see unfolding is that investors quickly become more skittish and more demanding than they used to be," said Andrei Postelnicu financial columnist.
"Romania will be affected to the extent that there are investors who might have had misgivings about its economy and companies but were willing to put up with them to make some money. The climate we see unfolding is one where few people are willing to put up with anything that's not crystal clear and squeaky clean," added Postelnicu.
In other words, the new events in the US accentuate investors' aversion to risk, which directly impacts the depreciation of high-risk assets such as those associated with emerging markets and capital markets, said Catalina Constantinescu, senior economist with ABN AMRO Bank Romania.
"The high risk premium will have its say in the adjustment of financing alternatives. However, it might be that real investors will not stray away from emerging economies, as they have a larger growth potential than advanced economies," said Constantinescu.
There is a ray of hope then in that category of investors that puts real value above risk and GDP growth rates above deficits.
Money gets expensive, but still likely to flood in
Still, even putting aside the risk of having an investor-migration on our hands, there is another potential consequence of the new episode of the US crisis for Romania. It has to do with everyone's problem these days: capital and most of all, its cost.
"When an investment bank the size of Lehman Brothers goes into bankruptcy, the selling off of its assets might cause recoil on the already agitated markets – not just financial markets, but also the US real estate market. It is getting clearer and clearer that the liquidity crisis is deepening and interventions from central banks all over the world will not cease. But the effects will probably show to a greater extent than ever in the ability of economies such as Romania's to secure external capital (even more so if other financial institutions around the world come to share Lehman's fate)," Constantinescu said.
"The major impact on emerging economies will be apparent in the cost and availability of external capital. Risk reevaluation will certainly lead to increased difficulty in accessing foreign financing and higher costs attached to it. The economies that will be the most affected will be those experiencing macroeconomic imbalances, especially high current account deficits since they translate into a higher dependence on external capital," said Ionut Dumitru, chief economist of the treasury and capital markets with Raiffeisen Bank.
Lucian Anghel, chief economist with BCR, said deficits should not be tough to handle this year, even with the ongoing subprime crisis on the horizon.
"As regards the current account (CA) deficit, I think we might see a slight correction in 2008. In my opinion, the CA deficit reached its maximum last year. I do not think we will see it worsen this year, as rating agencies predict. Let us take into consideration that the foreign direct investment (FDI) pool is shrinking globally, but might reach its peak in Romania this year, even without a privatization of BCR's size. This clearly states that there is plenty of investor attractiveness and potential business ventures will be reduced elsewhere, but not in Romania," said Anghel.
"The crisis will probably calm down by mid-2009, but Romania will continue to remain attractive. We will not have any problems financing our deficits as far as I can tell," he added.
CEE economies might suffer losses in the sense that the growth of their economic activities will undergo a slowdown. Still, the drop will not be so abrupt as to propel them into recession, said Constantinescu of ABN Amro Bank.
Other market analysts have been grimmer in respect to the much-feared "R" word, which they thought was slowly but certainly becoming the most plausible outcome – as remote as any outcome might be.
"I think recent events greatly increase the odds of a global recession. This is likely to substantially reduce Romania's economic growth rate. It will also accentuate the problems regarding the availability and cost of credit. Also, it extends the time horizon for the crisis to clear up – we are now unlikely to see clear skies for a good number of years," said Matei Paun, managing partner with BAC Investment.
Local investment banking: scaling down or keeping up?
Paun also spoke of the effects that the fall of Lehman Brothers and Merrill Lynch's run-for-cover might have on investment banks in Romania – BAC Investment being one of them.
"The investment banking sector in Romania should continue to do well. At BAC, we have not detected a decline in interest or valuations, and think this is unlikely to change. Romania will continue to present interest to those looking for new markets or new production sites," said Paun.
Postelnicu said there might be a decline in the number of deals on the local market, but fragmented sectors will continue to offer plenty of business.
"This unfolding crisis doesn't change the role of investment banks and it doesn't change the fundamental nature of the Romanian economy as we know it. If there was a need for the services of investment bankers before, this need will continue to exist. What will change is the scale of this demand. There probably won't be as many deals as there were before. There's a chance that some players will not have enough deal flow to sustain operations. But a lot of sectors in Romania are fragmented and in need of consolidation, so there'll still be a demand for advisory services," said Postelnicu.
Stock exchange puts
emotions first
Perhaps the most visible effect of the subprime crisis on Romania so far was on the Bucharest Stock Exchange (BVB), which dropped from sky-high records last year close to all-time lows. The BET index lost close to 50 percent since the beginning of the year, while indexes in Western Europe and the US fell by a half or even a third of that.
"The BVB has gone down so steeply both because of the correlation with external markets, but also because Romanian companies last year were among the most expensive comparatively. Now, they are traded at very attractive prices, but investors continue to react emotionally. Romania will bounce back when external markets do," said Anghel of BCR.
"The Romanian stock market had at the beginning of this year the typical features of an overbought bubble even if we forget about the climate elsewhere. But if the rest of the world is preparing for a crisis, emerging countries like Romania will inevitably be affected," said Postelnicu.
Constantinescu said the behavior of BVB investors can no longer be described as rational. They react solely based on feelings and not at all on fundamentals.
"This abrupt fall is rooted in the shallowness of the Romanian market which is characterized by a very low liquidity level compared to other markets. Had the crisis in the US not occurred, BVB's fall would not have been as significant," said the ABN Amro economist.
"Even if companies posted record-breaking results, they would continue to drop on the BVB. And the crisis is not over yet, losses will continue to unfold," said Anghel, listing two other reasons for investors' shyness toward the BVB: its lack of transparency and limited liquidity.
Paun expressed a similar view on how long the capital market crisis will take to bounce back to last year's performances.
"These markets are likely to remain in the doldrums for quite some time. I do not expect a rapid recovery. Let's not forget that it took at least three years for Romanian stocks to recover from their last correction in 1998," Paun said.
Citibank Romania never sleeps, AIG reaffirms top profitability
Citibank Romania and AIG Romania – both its insurance and private pension arms – have reacted promptly to the bad news from the US.
"Citibank NA is listed in the Lehman Brothers bankruptcy filing as an indenture trustee for bond debt of approximately USD 138 billion under Lehman Brothers Holdings Inc. Senior Notes. Citi wishes to clarify that our role in this issue is administrative in nature and does not represent exposure for Citi to Lehman Brothers. Any assertions to the contrary are false," said representatives of the bank's local arm.
They also quoted from a memo released by Citi's CEO Vikram Pandit, who told his colleagues on September 15 that, "Over the last year, Citi has managed critical priorities well – our capital and liquidity positions are strong, and we have tremendous capacity to make commitments to our clients. […]
"It is important that we maintain our unrelenting focus on the needs and concerns of our clients and shareholders. They will want our views on the ongoing market dislocation. Please assure them of the entire industry's commitment to work together through this transition. We are confident about the future despite a very challenging time."
He ended: "Citi never sleeps."
AIG subsidiaries in Romania sent a common statement saying that the current crisis will have no impact on the insurance and pension contracts of their cumulated 1 million clients.
"AIG Romania, AIG Life and AIG Fond de Pensii will respect all their contractual obligations and will complete all of their commitments," read the statement. The companies said their products would remain unchanged as would their growth and development plans.
"AIG Life is a company that is financially independent and requires no capital infusion from its shareholders, from other financial organizations or governmental institutions. It has been a profitable company since 2004, the most profitable insurer in Romania according to financial data released mid-2008," said the companies.
By Ana-Maria David