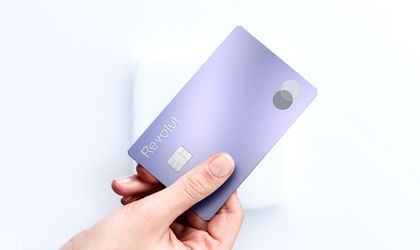 Christmas is around the corner and many people are now busy with the typical seasonal shopping to buy gifts, as well as getting ready for a 2022 that usually brings, as every other year, new goals and projects. Last year, in the two weeks preceding Christmas, Romanians spent 13 million Euro for shopping. Between 1-15 December 2021, a Revolut user spent EUR 84, on average, for shopping, 13.4% higher than in the same period in 2020. The average value / transaction also increased from 32 EUR to 35 EUR. At the same time, purchases made directly from stores have progressed significantly compared to those made online. Thus, 6 out of 10 transactions were made directly in the store, in the first half of December 2021, compared to 5 out of 10, last year.
Revolut, the financial super app with 18 million customers in the world and over 1.5 million in Romania, has investigated their customers' attitude towards gifting and the start of the new year, through a survey taken by about 6.000 people in over 14 countries, of which about 800 in Romania.
Making gifts: how, to whom and related concerns
When it comes to choosing gifts for somebody, the   64% of the Romanian respondents look for something according to that person's taste and only the 11% ask the addressee what they'd like to receive.  The rates are close to the ones recorded in Italy (68% and 11% respectively) or in Spain (66% and 11% respectively). In contrast, Lithuanians and Norwegians prefer to offer gifts as expected to those close to them, so that 28% of respondents in Lithuania and 27% in Norway, respectively, checked the option in which the person for whom the gift is purchased is consulted.
Romanians intend to buy the most expensive gifts for their life partner (39%), parents (23%) and children (22%). As for the restraints they may have on offering a gift, most people fear that the person who was given the present may be disappointed with what they received (37%) or that they may not use the items received and to be wasted (21%).
The money management app and less evenings out make the gifts' budget
Most of the Romanians, 37%, declared that they did not stash any money for the presents, while 17% affirmed to stash money aside to buy gifts by controlling the spending via app. Italians, together with Polish and Americans are those who use technology the most with this scope.
During this year, still impacted by the pandemic restrictions, also not going to pubs and restaurants is indicated as a way to save money for gifts by the 16% of Romanians.
Experiences (and not luxury products) are the best gifts
When asked about what is the best gift they could receive, the 20% of the Romanian interviewees chose experiences – be it something they would enjoy like a trip, a dinner, a concert ticket or something enjoyed with the people they love. The following favourite gift for the 20% of Romanians is something on their wishlist and the third is an individual (by himself/ herself) experience, indicated by the 16%.
Regarding luxury items, only 7% of Romanians mention them as one of their favorite gifts, a percentage close to those registered in Italy and Spain (8%). Irish and Lithuanians have the highest percentages for this category of gifts, at 15% and 13%, respectively.
New Year's Resolutions focused on money and wellbeing
After spending the New Year's Eve at home with family and friends, favourite option for the 40% of respondents, and followed by travelling for the 21%, Romanians will need to face their New Year's Resolutions: the most important for them seem to be managing money better (50%) and learning something new (36%) followed by spending more time with the people they love (33%) and start practising an activity to improve mental health and themselves (31%), 22% want to go to the gym, 19% want to change their home (rent or purchase), and 17% want to find a new job.
However, there are also users who say they do not set goals for the new year. Only 8% of respondents in Romania admitted that they do not set such targets, being one of the lowest percentages noted in this regard, among Revolut users, along with Italians (4%) and Spaniards (6%).
Revolut offers a suite of products that make people's life easier. The super app offers Visa, Mastercard and Maestro cards that can be used online, offline and with Apple Pay and GPay. With Revolut, it's possible to control and manage your spending easily thanks to budgeting and analytics tools, stash money aside in Vaults, invest in crypto, manage subscriptions using the specific tool to quickly cancel all those unused and much more.
Cards can be freezed and unfreezed easily from the app and each expense will be notified through a push notification. More info on www.revolut.com.