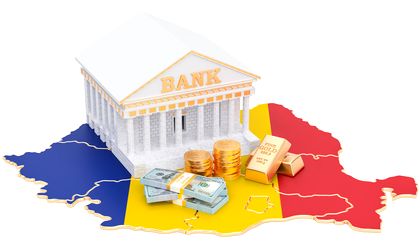 The banking system in Romania has evolved strongly over the past years. In terms of profit, 2018 brought a record high for Romanian banks. In fact, in recent years, the top line performance and profitability was above the European average, according to an AT Kearney report. Despite previous more pessimistic views, 2018 brought a 4 percent growth in loan stock and a 6 percent new loan production across segments (retail, corporate) – one of the best performances after some years of relative stagnation.
While on the retail side, the income per client for leading Romanian banks (Banca Transilvania, BCR, BRD, Raiffeisen, Unicredit) grew by 8 percent since 2014, faster than in most European markets (ex. Poland 5 percent increase, Central Europe 5 percent decrease). This performance continued to be fueled by the well-performing economy (GDP growth, wage growth, decreasing unemployment, stable and relatively low interest rates – even with the increases of ROBOR versus 2017).
Romanian banks also appear to be efficient compared to their European peers. With an average cost to income ratio of 50 percent, this is well below some developed markets like Germany (82 percent), France (73 percent) or UK and Italy (65 percent). Since 2008, Romanian banks have optimized their branch networks much more than peers in Europe (except Nordics), with more than 30 percent of network cuts since then – top five banks cutting more than 20 percent of their branches since 2008. Income per employee also grew faster, and this also came with (and partly because) cuts in the number of employees by around a quarter since 2008.
Some could argue there is and should still be room to grow: the banking sector has high liquidity with loan-to-deposit ratio for private individuals and companies of 79 percent end of 2018, still well below the pre-crisis levels of 2008 (when it was 120 percent). After the crisis, the loan-to-deposit ratio steadily decreased, dipping below the average of EU and similar countries, such as Poland.
Loans to private individuals and companies accounted for 26 percent of GDP in 2018, again a drop from 33 percent in 2013. Further, only 58 percent of adults have a bank account, only better in Europe than Albania, Armenia and Kosovo (European average is at 95 percent).
Despite high liquidity and low financial intermediation though, growth is and will be difficult: limitation of private individuals' indebtedness ratio this year, a high share of companies that struggle to access bank loans and be 'financeable', and an expected deterioration of the macroeconomic environment are factors that will hinder growth.
But not for everyone
With 34 banks in the system at the end of 2018 in the system, not everyone is winning, and consolidation continues, both naturally and through M&As. Leading banks are performing better and better than smaller banks – top 6 banks already reaching about 70 percent market share by assets, 68 percent by loans in 2018 versus 64 percent in 2015 by assets, 60 percent by loans, and taking over more than 80 percent of banking system profits. All top six banks (except BCR) outperformed the market in net result annual growth since 2015 to 2018, with almost double digits total income annual growth.
Several rising risks banks will face in the near future
Consolidation is expected to continue, and more intensely than it has happened so far. At the European level, A.T. Kearney's European Retail Banking Radar 2019 (looking at the evolution of retail banks over the last 10 years in Europe) predicts that one in ten banks will likely disappear in the next five years – this is expected even more in Romania, with a fragmented banking system.
Small banks, with fewer than 1 million customers, face tremendous efficiency pressures, with cost-to-income ratio being in the range of 60 to 65 percent at least, or 10-15 percentage points more than bigger banks. (Interestingly enough, very large banks, with more than 11 million customers, are facing the same situation as the very small banks).
Income pressure will intensify, with interest income growth to soon reach a plateau. And despite weighing less on banks' P&L, fees and commissions are also pressured by the growing expectations of 'free' banking services (ex. accounts), and we expect at least 15 percent of net fees and commissions to be at risk (without innovation and better performance in providing products and services with added value for which customers to see a relevance in paying for). This pressure comes also from escalating competition from neobanks, but also stiffer competition between traditional banks to defend their customer base.
Growing digitization
With growing digitalization of banking products and services, the European Retail Banking Radar 2019 study estimates that between 30 to 70 percent of branches could disappear in the next 5 years, as more and more customers migrate to digital/remote channels.
Forward-thinking banks are expected to focus on four areas, in the next few years, much more than until now:
Digital transformation: digitalization of products and services, and automation of processes to achieve both internal efficiencies and a better offer for customers;
Offer transformation: more and more sophisticated products and services, with higher added value, that solve more and/or better customers' jobs to be done, in a more targeted way (fueled by advanced analytics);
Branch transformation: more branches are expected to disappear in the near future, in line with European expectations – remaining branches will play a more important role in financial advisory and financial education services, and offering a differentiated experience to customers (in a world of rapid digitalization, this physical touchpoint remains one of the few ways to offer customers a distinct and more valuable banking proposition).
People transformation: trend to optimize workforce will likely continue, due to further process automation, support functions streamlining and centralization. But the real paradigm shift over the next years will come from the need to attract, develop and retain talent – both in front office and back office.
Those who will seek to only incrementally evolve will disappear. The next years will not be about evolution anymore, but rather about revolution.
On the income side, banks need to appeal more and better to younger generations while still remaining relevant for older ones – and the needs and wants between the generations are different.
On the cost side, banks need to become lighter, more adaptive, more automated – and soon to realize the shift from decades-old banking IT systems finally to more performing newer solutions.
The next years will be a top-line game. Banks that will offer higher value-added products and services and thus be able to monetize them will survive. Those that will not, will disappear. There is simply no longer room to endure a next economic slowdown only through cost cutting. To be successful in this, a bank may take two approaches, both which can be valid in the right context: (a) first mover / innovator approach, or (b) fast-follower approach, imitating what other do but doing it better. The key is 'doing it better' – simply imitating tomorrow what others like neobanks do today won't be enough, and again those banks will not survive.
"Investing in people is a must, no longer a nice to have. Quality of people, quality of customer service. Without quality in these areas, even banks that innovate fast and/or well will soon lose credibility in front of customers, so they will not monetize their innovations. Likely there has never been a more stringent need to invest in people in banking than today!" shows the report.