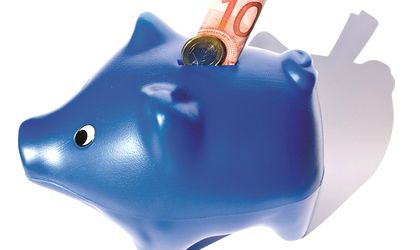 Despite the financial crisis eating into their disposable cash, Romanians are still interested in saving. The economic misery has changed their patterns of consumption, convincing them to pay much more attention to their personal finances.
By Anda Dragan
The current downturn has imposed a significant decrease in consumption on many of us, along with a greater willingness to put some pennies aside for a rainy day. But it has also depleted earnings, making it harder for many people to save. Despite this, Romanians are increasingly cautious and their keenness to put some money by is becoming more visible on the market. Saving has become a priority, especially for individuals, and specialists expect this trend to continue in 2010. "Since the beginning of the current crisis on the Romanian market we have noticed a significant change in customers' saving behavior. In other words, their appetite for consumption has dramatically decreased to be replaced by a saving mentality, due to the increase in interest rates for term deposits and saving accounts," says Adrian Chichita, deputy manager of the retail division at OTP Bank Romania. But, according to him, this trend is a natural one in times of crisis.
Few Romanians are currently managing to save much money, due to the still low standard of living in Romania. But some higher earners are able to put some money aside, without getting into financial difficulty. As Mihail Ion, president and CEO at Raiffeisen Asset Management, puts it, regardless of the size of their pay packets, Romanians' psychology has altered since the beginning of the crisis. "Many of the factors that pushed people towards consumption are now gone: the easy access to credit, job stability, employment prospects, two-digit salary growth, etc. In the new conditions, even though people's available income has often decreased, cautiousness makes them want to save money. A greater portion of the salary is saved and a smaller portion spent," says Ion.
What financial instruments do Romanians go for?
Different savers opt for different products, both in Romania and more generally. Ion says that the typical investor in mutual funds is 46, has an above-average income and lives in one of Romania's large cities. "I think that the average profile of a depositor is relatively similar," he adds.
According to Chichita, Romanians prefer to invest in short-term deposits – from one to three months. "Although mutual funds are a tempting choice, with very good returns, the Romanian market is not really ready for this kind of investment. But we expect to see it grow in popularity in the future, as the local market becomes more mature," says the OTP representative.
Ion has already detected an upswing in interest. The Raiffeisen Asset Management representative says that the recent change in saving behavior is reflected in the significant attention paid to mutual funds, which have found their place among lenders' pantheon of saving-investment products. According to Ion, some 10-15 percent of the growth of Romanian savings went to mutual funds last year.
"This allows us to say that they will have the same importance on the local market in the medium term as they have in other developed countries, where they account for 10-20 percent of the financial wealth of households," adds Ion. According to him, traditionally Romanians have kept their nest eggs in foreign currencies, with almost 40 percent of savings being EUR investments. This is higher than other Central and Eastern Europe countries. "Despite higher returns for RON investments, some money is kept in Euros, which could indicate some distrust in the local currency," says Ion.
Where savings will go from here
Specialists don't expect dramatic changes in saving behavior this year compared with 2009, so the trends are tipped to continue in 2010. However, savers are set to see their returns fall as bank interest rates are lowered. According to specialists, at least two factors can boost savings activity: a higher degree of financial education and fiscal incentives.
"We can also add an increase in incomes on the medium and long term," says Ion. Financial market players have been going all out to educate Romanians in the financial-banking culture. Although this is a long-term process, it should drive the increase in savings. "Many people who don't put any money aside will understand that they could do it, by giving up some useless expenses and understanding the benefits of regular saving over the long term," says Ion. In his opinion fiscal incentives can act as a catalyst for regular saving, both for pensions (optional fund pensions) and housing purposes. Given the stark differences in the economic climate compared with the beginning of 2009 – which mean that financial institutions need less liquidity and interest rates are less attractive – specialists don't expect new factors to boost individuals' savings.
"However, we don't anticipate a radical change in customers' behavior this year to the detriment of savings. People will continue to put some money aside in 2010, if only to have some financial reserves," concludes Chichita. One thing should work to persuade the cautious to save: although interest rates have fallen substantially in the last few months, interest on individuals' savings accounts are still high, ensuring that pennies will continue to be squirreled away in 2010.
anda.dragan@business-review.ro