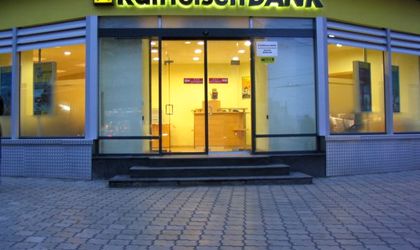 Raiffeisen Bank Romania, the local subsidiary of Austria's Raiffeisen Bank International, said on Thursday that its net profit has increased by 64 percent year-on-year in the first half of this year, up to RON 423 million (EUR 91 million) in fresh lending, while the risk costs continued to fall.
Raiffeisen is the fifth largest bank in Romania in terms of assets and has registered a 14 percent increase in the assets to RON 38.1 billion (EUR 8.2 billion) at end-June compared with June 2017.
The bank's revenues rose by 21 percent to RON 1.2 billion in H1 2018, while operating expenses increased by 5 percent to RON 622 million.
"In a rising interest environment, more than 90 percent of the new volumes in the last year on consumer loans are granted with fixed interest, while for mortgage loans 60 percent have fixed interest for the first seven years," says Steven van Groningen, president & CEO of Raiffeisen Bank.
The bank's portfolio of individual customers remained relatively constant at 2 million. Out of this figure, 475,000 were active in online banking making over 16 million transactions.
There were also 100,000 SMEs and 5,600 corporations in Raiffeisen's portfolio.
The bank's number of employees fell by 91 during the last year to 5,099, while the network of branches shrank from 466 to 433 units. Raiffeisen Bank Romania had over 900 ATMs, 19,300 POS and 210 multifunctional machines.