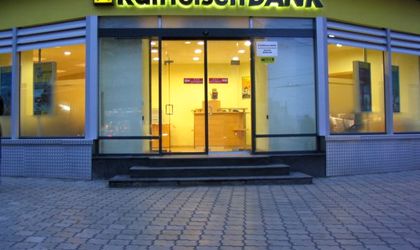 Raiffeisen Bank has registered in the first half of this year a net profit of RON 384 million (EUR 81.2 million), down 9 percent year-on-year mainly due on regulatory changes and higher spending.
The bank, owned by Austria's Raiffeisen Bank International, registered assets of RON 40 billion at the end of June, up 5 percent compared to mid-2018.
The bank's loans to its customers rose by 11 percent in H1 2019 year-on-year to RON 26.2 billion while deposits increased by 7 percent to RON 33.4 billion.
"This year we are reporting a profit slightly lower than in the first six months of last year, due to methodological changes of calculation of credit provisions. The net profit, unaffected by these non-recurring changes, would have been 13 percent higher compared to last year," said Steven van Groningen, president & CEO of Raiffeisen Bank.
In March, Raiffeisen Bank International (RBI)'s CEO said that it will reevaluate its operations in Romania after the government imposed the new tax on assets through the emergency decree 114/2018 approved in December.
But the government has changed the bank on assets at the end of March, significantly reducing its value.
Raiffeisen's Romanian subsidiary is the 5th largest bank in Romania in terms of assets.