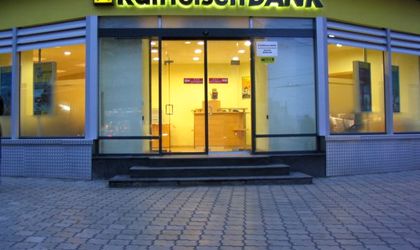 Raiffeisen Bank reported revenues of RON 615 million for the first quarter of the year, 11 per cent higher compared to Q1 2018. Net profit fell by 16 per cent to RON 178 million in the first quarter of this year, compared to the similar period in 2018. Total assets of Raiffeisen Bank increased in Q1 2019 to RON 40.62 billion (9 per cent increase year on year). The bank's loan portfolio reached RON 26.5 billion, an increase of 14 per cent year on year.
"We continued to grow steadily if we take into consideration the funding we have granted to companies or individuals and trading results. We have the satisfaction of being one of the major financiers and supporters of the Romanian economy. On the other hand, we report a declining profit at March 31, 2019, due to higher spending on wages, fees, contributions to the deposit guarantee fund, regulatory costs such as MIFID II, PSD2, but also higher efforts of the bank for digital transformation," said Steven van Groningen, President and CEO of Raiffeisen Bank.
Net loans to customers increased by 15 per cent in Q1 2019, a growth supported mainly by loans to large and medium-sized corporations and consumer loans for individuals. Loans to Romanian large and medium-sized corporations increased by 20 per cent as of March 31, 2019, year on year. Consumer loans for individuals advanced over the previous year, and are up 11 per cent.
The non-performing loans ratio declined to 4.2 per cent at the end of Q1 2019, compared to 5.3% as at March 2018.
On the other hand, deposits attracted by Raiffeisen Bank from customers advanced by 9 per cent (year on year) reaching RON 33.11 billion as at 31 March 2019.
The bank's operating income amounted to RON 615 million at the end of March 2019, up 11 per cent (year on year). Raiffeisen Bank ended the first quarter of this year with a net profit of RON 178 million (RON 212 million in Q1 2018).
The bank's operating expenses totaled RON 363 million, compared to RON 320 million in March 2018 (a 14 per cent increase per year). The increase in operating expenses comes from the wage area, taxes paid by the bank, costs related to introducing new regulations, but also for digital transformation.
Raiffeisen Bank has exceeded the threshold of 650,000 digital customers who use Raiffeisen Smart Mobile and Raiffeisen Online.
The Bank is the leader of the credit card market with 500,000 active cards as of March 31, 2019, and more than 95 per cent of the amounts traded through Raiffeisen Bank credit cards are used at POS or for online shopping.
As of 2018, Raiffeisen Bank also supports the Romanian start-ups. Earlier this year, the bank launched the second edition of the "factory by RAIFFEISEN BANK" program with a new offer and an extended benefits package. Of the 315 projects submitted, 165 are in the final stage of the program and are currently pitching their business ideas in meetings with bank specialists and experienced entrepreneurs. At the end of May, a maximum of 100 projects will be selected to be funded in 2019 with up to EUR 50,000 each.
As at March 31, 2019, Raiffeisen Bank had more than 2 million individual customers, a relatively constant number as compared to the March of last year. The bank also has approximately 92,000 SMEs and 5,700 corporations.
At the end of the first quarter of 2019, the bank had 4,951 employees (5,186 at 31 March 2018), 419 units across the country, approximately 900 ATMs, 20,000 POS and 250 multifunctional machines.
RBI results increased
Raiffeisen Bank International (RBI) generated a consolidated profit of 226 million in the first quarter of 2019, the operating result amounted to 465 million.
"Loan growth and net interest income are developing positively. Due to various one-off effects, the first quarter of 2019 can be compared with the prior-year quarter only to a limited extent. I expect that RBI will achieve a good business result also in 2019. We have a strong capital base that allows us further growth," said RBI CEO Johann Strobl.
Despite the sale of the Polish core banking business, overall, net interest income fell only slightly by 4 million to 825 million year-on-year. Excluding this sale, net interest income would have increased by approximately 8 per cent. The net interest margin declined 7 basis points to 2.43 per cent, mainly driven by growth in low-margin business at head office and negative margin developments in Russia and Belarus
General administrative expenses declined 16 million year-on-year to 724 million. The cost/income ratio increased 3.6 percentage points primarily due to hedge valuations to 60.9 per cent.