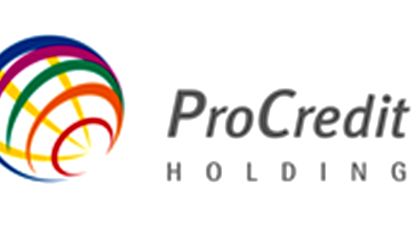 The gross loans portfolio of the ProCredit Group increased by EUR 350 million, up 8.9 percent in the first half of 2018, to EUR 4.3 billion. The consolidated result of EUR 26.7 million from continuous operations in the first half of the year is significantly higher than in the same period of 2017, of EUR 20.8 million respectively.
At the same time, the "green" loan portfolio, which ProCredit banks grant to support environmentally responsible projects, increased, and on 30 June 2018 these loans accounted for 13.9 percent of total loans versus 12.6 percent on December 31, 2017. In addition, "green" loans accounted for 17.2 percent of total investment loans for the first six months.
"The consolidated result of the ProCredit Group's ongoing operations for the first half of 2018 amounted to EUR 26.7 million, above EUR 20.8 million in the same period last year. Measures implemented in the previous financial year for growth efficiency is clearly reflected in the reduction in operational expenditure. Compared to the same period last year, personnel and administrative expenses decreased by 12.3 percent, or 11.7 million euros. In addition, with the introduction of the "direct bank" concept for retail clients, net tax and commission income increased by 11.1 percent to EUR 24 million. Marketing campaigns launched in the second half of the year 2018 aim to increase the degree of notoriety," notes ProCredit's financial report.
At the same time, risk-coverage provisions remained low and during the first six months of the year the share of non-performing loans fell from 4.8 percent (on 31 December 2017) to 3.7 percent (on 30 June 2018) , while the coverage ratio with non-performing loans increased to over 90 percent.
The consolidated profit of the ProCredit Group, of EUR 26.7 million, exceeded the level recorded in the first half of 2017 of EUR 23.6 million.
"Customer deposits, which are the most important source of funding for ProCredit banks, were EUR 3.6 billion on June 30, 2018. The same level was also reported at the end of the financial year 2017, slightly above the EUR 3.5 billion was recorded at the end of 2016. This is a positive result, especially in light of the significant reduction of the branch network and the digitization of services to individual clients. The decrease in volume of deposits in small amounts correlated with the restructuring of the branch network was offset in full of the growing deposits attracted from corporate clients," the press release stated.
At the forecast level for the whole of 2018, ProCredit anticipates an increase in the gross loan portfolio of 12-15 percent and, depending on the evolution of the net interest margin and the increase in the loan portfolio, the ROE is expected to increase, will be between 7.5 percent and 8.5 percent for the financial year 2018.