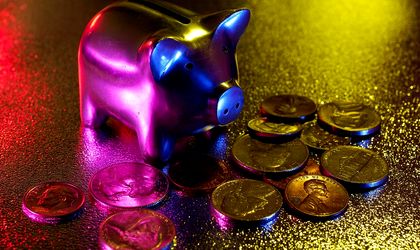 Lower or fixed interest rates, slashed commission and co-branded cards are just a few of the products used by banks to lure individuals into entrusting them with their savings, as specialists say that this year the level of saving is expected to drop. Are their strategies showing results?
Dana Verdes
In a time when the financial and economic crisis seems a never-ending story, commercial banks are sparing no effort to gain new customers for both savings and loans.
Since the beginning of the year banks have been scrapping for every RON, and everywhere you turn your head you can see outdoor banners or commercials for banking products.
Saving their skins on a mean market
For instance, Banca Comerciala Romana (BCR) officials tell Business Review that the bank continues to encourage saving, developing a series of promotional campaigns for long-term deposits.
"Currently, there is a three-month ongoing campaign for deposits in both RON and EUR. This deal offers clients 7 percent interest for RON deposits and 3.5 percent for those in EUR. Additionally, for deposits made through alternative channels, customers get a bonus of 0.25 percent," says Catalina Zincenco, chief of the retail products management department at BCR.
Other players are equally ambitious. Garanti Bank officials add that the lender's "strategy for his year is to get into the top ten banks with more attractive investments." Cornel Fratica, retail banking manager at Garanti Bank, tells BR that at the beginning of the year it was "decided to remove some fees for all types of credit, which had a positive impact on the number of credit applications received." He adds: "Among the measures taken last year to support savings we launched a savings account with attractive interest rates comparable to those of deposits, for both EUR and RON. We estimate that the saving rate will decrease this year."
Elsewhere, Alpha Bank representatives say that they have recently launched a new campaign for refinancing and a co-branded card campaign with telecom company Cosmote. "In mid-2010, Alpha Bank Romania launched the Alpha Tax Protect product, which addressed the basic need of the consumer at the time of its release, namely protection from tax on interest. Alpha Tax Protect was by far the bank's most successful product portfolio in 2010, judged by the interest from many of the customers," Alpha Bank officials tell BR.
Meanwhile, BCR also took measures to stimulate saving last year, which resulted in the bank increasing its market share of savings products for individuals. The lender removed the minimum sum for long-term deposits; charges nothing for the establishment, management or liquidation of monthly deposits; offers attractive interest rates for deposits in campaigns throughout the entire year; and guarantees the best interest rates for term deposits for customers whose pension or salary is paid into their BCR account.
Bank specialists tip the RON to offer the best returns this year. "Our prediction for the end of the year is a significant fall in inflation to 4.3 percent and a slight appreciation of the RON which could reach 4.1. All this shows us that those who bet on the RON will stand to gain, taking into account the current interest rates for deposits.
Also, during this period, bank customers can take advantage of promotions for deposits which raises their attractiveness," says Florin Eugen Sinca, analyst in BCR's macro and market research strategy department.
Who's saving money?
Bank specialists say that the big savers are those who are financially disciplined, individuals who rationally plan their lives and are mostly over 35 years. Zincenco adds that different savers have different reasons for putting away the pennies.
"For most savers, the major motivation is to put aside money for a rainy day, with a time horizon of three-month periods. Generally, here we find families with young children who run their finances responsibly, with the money needed for a minimum level of security. For them, both the perceived safety of using the services of a trustworthy bank and obtaining a minimum gain on their savings are important," says Zincenco.
She adds that there is another category of saver who uses short-term deposits (one-three months) to save for immediate and specific needs such as the purchase of a certain product or vacation expenses. These customers look for promotional interest rates.
Cornel Fratica, retail banking manager at Garanti Bank, tells BR that at the moment "Customers are looking for credible banks that can offer a certain level of safety for their savings. They prefer to keep their money with more than one bank, given the limited coverage offered by banks. The most important terms are the interest rate and cost of cash withdrawals, as well as the advantages of other banking products," says the Garanti Bank official.
Bank insiders say that people who regularly have spare cash are saving even more, putting their money away for minimum six months and up to several years.
Saving is also popular among people approaching the end of their working lives. Over-50s plan on accruing additional income to meet their retirement or health needs. "For this type of client, the safety of the investment and minimum returns are the most important aspects," says the BCR official.