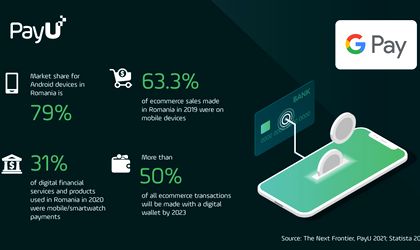 Due to the partnership between PayU, the online payments leader in Romania, and Google, Google Pay service is now available on the Romanian market.
Giving the strong e-commerce upward trend, with an annual average of online purchases per capita expected to exceed $308 in 20211, merchants will have to provide buyers with more and more payment methods to assist the purchase in a simple, fast and safe way.
Google Pay is a simple payment method to pay with a card, without having to fill in the data on the card, users having the freedom to make payments by phone without accessing their laptop, card or cash.
In order to make payments with Google Pay for online purchases, users must save their card or card details in their Google account, at pay.google.com or through Google Pay mobile app.
Merchants implementing Google Pay have multiple benefits including improved shopping experience, expanded availability in terms of number of saved cards, optimized technical functionality, sales increase due to growing popularity of this payment method, along with increased security payments and a lower risk of fraud.
"In Romania, making payments by phone had exceeded by far the online orders made from laptop since 2019, the difference between these two payment channels being 63.6% via smartphone vs. 36.4% via laptop / desktop2. At the same time, 31% of all electronic payments were already made via mobile or smartwatch and this trend will certainly grow after Google Pay launch", stated Elena Gheorghe, Country Manager PayU România.
Last year, in Romania, approximately 9 million people used online commerce, the equivalent of 47% penetration rate3 and it is estimated to increase to 10.7 million users and a penetration rate of 57% by 20254.
The partnership between PayU and Google not only boosts local e-commerce, but also offers new benefits to shoppers, who will be able to use traditional payment methods via internet, directly from their smartphone.
"Romanian buyers want to pay for their products and services quickly and easily. The time spent making the payment and the effort they have to put in to complete it are crucial in their decision process to return and buy again. With Google Pay the procedure is so simple that when shopping in the online app of the store or on its website, it is enough to access << Google Pay >> button, to select the desired card and to approve the transaction with it", added Elena Gheorghe.
Payments can be made with Google Pay on smartphones with Android operating system, the most widespread in Romania, having a market share of 79% of all mobile device users.