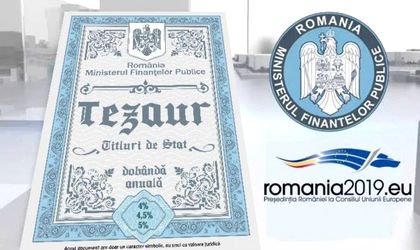 The Finance Ministry has announced that the total amount invested by Romanians in state bonds created exclusively for the population, with maturities of 2, 3 or 5 years, is RON 694.4 million.
State bonds in the Tezaur programme could be purchased in the State Treasury's operative units across the country as well as at Post Offices.
The 2-year maturity bond has a 4 percent annual interest rate, while the 3-year maturity bond has a 4.5 percent interest rate. The 5-year bond comes with a 5 percent interest rate.
"We thank all of the Romanians who have trusted the Romanian government and invested an average of EUR 12,700 in state bonds. Each of them will benefit from the best interest rates on the market and non-taxable incomes. We will continue to fulfil every promise in the governance programme and make every effort to ensure that Romanians have a good quality of life that is comparable with European standards," said minister Eugen Teodorovici.
The Ministry added that the issuance of state bonds will continue over the next few months, considering the high interest shown by the population.