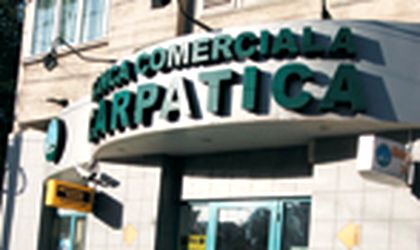 In a banking system that is 90 percent controlled by foreign-owned lenders and only three of the total 40 banks are domestically-owned, each of these three is bound to get a fair scoop of attention. Banca Transilvania is mostly applauded for its dynamic growth and focus on small and medium enterprises. CEC Bank is known for its overwhelming 1,400-branch network, its failure to get privatized and its recent resurrection. So what is Banca Carpatica (BC) known for?
First of all, it is known for its great, according to some, and not so great, according to others, appeal with investors. For years now, there have been rumors circulating that Banca Carpatica is either up for sale, has received dozens of tempting offers or has failed to attract any admirers in spite of repeated signs of availability and willingness.
The latest takeover buzz involved Commerzbank, one of the biggest lenders in Germany. It was even said that Carabulea's new asset management company just launched last week – SAI Carpatica Asset Management – was an extra effort to make the group more appealing to potential investors. A rumor Carabulea denied. The new company is just a natural step in the company evolution, he said.
"I was delighted by the rumors of the bank's sale, because we rarely get noticed. Commerzbank was the first bank we worked with on the international transfer segment. We received plenty of takeover offers, but talks did not get to the due diligence point," said Carabulea, who controls about 36 percent of BC.
He added: "When someone says 'Hello!' it is polite to answer back. But that does not mean that you are obliged to say 'Hello!' first. They were interested in the bank, so we invited them over for discussions. This is how things work in this industry."
Carabulea went on to say that the bank is now following a three-year growth strategy, therefore its sale is out of the question.
The marketing director of Atlassib, Radu Androne, said: "Of course anything can be sold for the right price. But there is also an emotional attachment to every one of the businesses Mr. Carabulea gets involved in."
Carabulea confirmed last week that he had received twenty or maybe thirty acquisition offers for the bank, but said he would not consider any of them. "What would I be doing with the money?" he asked rhetorically. Plus, the bank fits into his wider business strategy. BC is interlinked with Carabulea's other businesses, but they also work independently – the Atlassib holding is separate from the Carpatica financial group.
On the one hand, the holding's turnover exceeded EUR 270 million last year. Individual businesses range from transportation and leasing companies to milk farms and meat processing companies, to hotels and real estate developers for local retailers.
To wrap things up and complete its array of profitable businesses, Carabulea has the Carpatica financial group. It includes BC, a brokerage company, asset management companies, insurer Carpatica Asig, a private pension provider and soon the money transfer company Meridiana Transfer de Bani, which will be operational by August.
"Having a bank as a business does not mean that the other businesses in the group get a break and acquire financing easier. Each of the companies is managed by its own team of experts and they need to comply with BC's lending standards just like any other business would," said Androne.
The bank has multiplied its net profits 18 times in the first quarter of the year compared to the same period of 2007. The figure now stands at EUR 700,000, a result that has been affected by BC's rapid growth last year to a total of 241 branches, about ten percent of which are located in Bucharest.
But Androne said Carabulea's dearest investment is the one he made in the land transportation company Atlassib. The company has exceeded its own expectations for profits, and Carabulea's decision to enter the air transportation business to compensate for the drop he expected in his land transportation business proved hurried.
"As Romania develops and needs get more sophisticated, people will no longer put up with spending two days on a bus to get to their destinations," said Carabulea. This is exactly where the new airline would have come in.
However, to Carabulea's delight and surprise, Romanians' tastes have not evolved as rapidly as he had envisioned, and his business grew ten percent in the first quarter of this year compared to the same period last year. This has caused Carabulea to postpone his air travel plans although the company is already authorized.
"Why would I step on my own foot?" mused Carabulea, who added that his transportation company, Atlassib International, posted a EUR 78 million turnover in 2007, ten percent more against the previous year.
In real estate, Carabulea has put EUR 20 million into launching a four-star hotel, Ramada Sibiu, in July last year. Other Ramadas will follow in Timisoara, Cluj, Iasi and in the capital city. Another EUR 20 million investment will go into a conference center, and an additional real estate plan Carabulea has is to build twin towers in Sibiu.
In the food sector, Carabulea is investing in meat processing companies, fruit and vegetable growth and milk farms among other businesses.
His newest addition to his portfolio is the Biosevis milk brand that will follow his EUR 2.5 million investment in Sibiu-based Sevis. The milk will meet European quality standards and will be distributed and sold nationally.
These are but a few of Carabulea's businesses, which he says were created to prove that there is such a thing as local profitable business ventures.
By Ana-Maria David