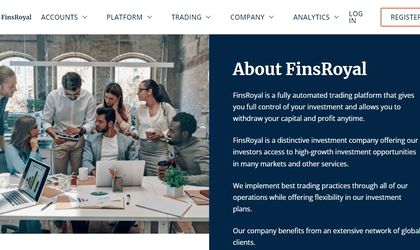 Trading precious metals on a CFD basis is an exciting opportunity to earn money. With FinsRoyal metal trading becomes more exciting and profitable.
The relationship between demand and supply is the foundation of metal trading on a CFD basis.
An enormous number of indicators and analysis tools are essential to monitoring the trading.
FinsRoyal is the most outstanding investment company for metal trading because of unlimited opportunities.
We have a long history of using precious metals as currencies or exchange mediums. In modern days, metals have become essential trading assets. Metals had a substantial application to be considered as currencies and essential trading commodities before the appearance of cryptocurrencies and the stock market. Several countries also use precious metals to build currencies. Precious metals, such as gold, silver, platinum, etc. are now profitable trading commodities. However, to gain maximum profits from metal trading, you should start trading with a reputable brokerage company. FinsRoyal is an excellent investment company for metal trading, and you must try trading with this organization in order to have a variety of advantages.
Trading Precious Metals:
After all that technological evolution we have experienced, precious metals are yet essential commodity assets. The most interesting thing about trading this commodity asset with FinsRoyal is that this financial organization lets you trade on a Contract for Difference or CFD basis. While you trade on contract-based futures, this allows you to make handsome profits. Above all, CFD trading demands an accurate assessment of the price movement whether it's about daily trading or long-term investments. Experienced traders also engage in metal trading on a CFD format for multiple advantages. In the case of CFD trading on metals, you do not require to think about the interweaving of trading after a specific month or date as this trading excludes an expiry date. Therefore, CFD trading gives you the freedom to decide whether to have an open position or close the CFDs.
The Benefits with FinsRoyal:
The crucial benefits that you can receive from metal trading with FinsRoyal are
Numerous analytical tools of this trading platform help you to assess your profitability in the investments.
This investment company has an innovative WebTrader platform to offer you several indicators and advanced charting.
You can also make use of the charting time frames and access the trading history of other traders.
In the case of any type of trading, instant execution of orders and robust security of the transactions is essential, and you will receive these advantages with FinsRoyal.
The customer support team and expert advisors of this financial provider guide all the clients and provide the most efficient solution for different types of problems.
The Demand versus Supply in Metal Trading:
The main factor that determines the price of the metals is the demand vs supply relationship. The high demand for precious metals is responsible for their high economic value. Precious metals are also useful for other applications, such as diversifying the portfolio and hedging against inflation. Even though gold is most profitable, you can even trade on palladium, silver, and iridium as these metals are also useful in electronics and chemistry.