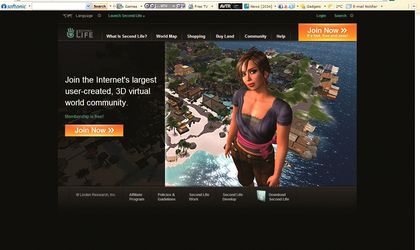 After many years of fierce competition between lenders to gain new market share and extend their coverage nationwide, a new era on the banking scene is beginning: the fight is now taking place in the virtual world. BCR is the first bank to have entered Virtual Bucharest, by opening a branch in Second Life.
By Anda Dragan
Running a virtual real estate development company. Going shopping in huge malls full of famous brands that will set you back many Linden dollars.
Making transactions. Entertaining yourself. In short: you live a Second Life (SL). While, traditionally, lenders are most often linked with tangible concepts such as launching new products and services, mergers & acquisitions, financial results and credit lines
from international financial institutions, things are beginning to change.
Banca Comerciala Romana (BCR) took its first step into Second Life. It was the first bank in Romania to have opened a virtual branch on the SL platform. Its financial educational program, Money School (Scoala de bani), will also have a 3D equivalent in the virtual world.
Located in the center of Piata Revolutiei in Virtual Bucharest, the BCR branch enjoys a daily traffic of over 250 unique users inside, as well as exposure to more than 800 residents who socialize in the virtual city. Moreover, BCR will also undergo a branding process in Virtual Bucharest in 2010 and will organize events and contests in the online Piata Revolutiei.
So a bank is already up and running in the virtual realm. "Launching a branch in Second Life and integrating the financial education program Money School is part of our strategy to interact with people at levels other than the traditional ones," says Daniel Pana, executive director of the marketing division at BCR.
"The fact that Second Life has it own economy and currency allows us to test around the idea of money through the implementation of advergames and contests dedicated to the virtual community. But it also permits us to offer them tangible services such as cards or internet banking", he says.
But how has this move been perceived on the market? According to Cristian Manafu, consultant at Strategist.ro, such an initiative is welcomed, because it shows courage and openness to new things.
"BCR has identified a new audience and decided to interact much more with it through one of the most interesting communication channels – Second Life. The challenge for BCR is to create a coherent strategy for action in Second Life, and so be able to fully benefit from the advantages offered by this platform," says Manafu.
According to Aura Tatu, the creator of Virtual Bucharest, the lender's entering the virtual environment is as appropriate as its presence on the internet in general. Besides, BCR is neither the only bank active online nor the first at international level that is promoting itself in a 3D virtual space. "Second Life is wrongly perceived as a game, because it looks like a video game. But it lacks the essential features of games – it has no missions to accomplish, levels or goals to achieve. Besides, its whole content is built by its users and it has its own economy that really works," says Tatu.
She adds that Second Life is now the most advanced 3D virtual platform: "It is a preview of the internet of the future." According to her, there is already a virtual Romanian community in Virtual Bucharest that numbers 9,000 loyal users and has a daily traffic of about 800-1,000 unique ones.
"It is more efficient for a brand to come where the community gathers and where there is safety and regulators for public chat," says Tatu. She adds that the average time spent in Second Life is about three hours per user daily, compared with ten minutes spent by a reader on a blog. This means that this environment can offer huge opportunities. "The young generation is hooked up and they represent the target that many brands want, so it is logical to be where they are.
Besides, the most open approaches to such an environment have come from people who work in banks and see the potential that Second Life offers for marketing," says Tatu.
Lenders embrace virtual reality
The virtual space is becoming more and more of a target for banking players and 2010 seems to be its year.
It is all about the huge prospects and increased effectiveness of this environment.
"I think that lenders will focus this year on the online space due to its opportunities for communication and interaction. Furthermore, both costs and resources are lower than in other communication environments, and efficiency is now a key element in development strategies," says Manafu.
In his opinion, the virtual environment can bring lenders closer to their customers and can also make for more direct communication with them. It is not a traditional approach for banks but it is one that could bring significant advantages. Besides, along with mobile phone and gadget brands, lenders were among the first players to roll out internet campaigns. "There are some brands that embrace technology solutions before others, and banks are among them. They struck earlier, and when such 3D environments are mainstream they will have a significant advantage over the competition," says Tatu.
Why Second Life is first choice
Visibility, courage, innovative spirit, customer care and appeal in interacting with clients are some of the advantages that Second Life is said to offer to financial players.
It also allows clients to get into contact with financial institution more easily and proves the existence of some skills that might not be visible in the usual communication process.
Entering Second Life also brings huge image capital. The brand is perceived as being "human," in touch with the public's problems and opinions.
While the virtual environment is becoming more important, it cannot be said that the competition will be moved completely to the virtual plane.
But lenders' communication perspectives will definitely be changed, once they realize how the virtual environment can become another tool for getting in touch with consumers.
"The competition will be like it was the offline one some years ago when banks fought for nationwide coverage. In the near future we will see a battle for consumers who have become more sophisticated," says Manafu.
Tatu thinks that the competition will be split between the tangible and virtual space, but believes that for some products the decision to buy will be made exclusively online.
But a bank's presence in Second Life could be a competitive
advantage as long as it is well structured.
Communication needs to be adapted to the virtual space and to users' profile, and it has to speak their language.
"When you are the biggest it is good to be 'the most' in other directions, too. Here it is about innovation and adaptation to the constant changes," says Manafu.
There is no doubt that presence in Second Life is an image strategy, but its results are not visible immediately.
"Many of our users are very young – they are practically tomorrow's consumers. For them, the
decision to sign up with a specific bank is greatly influenced by the way it communicates with them, in a very familiar space. We noticed that many of users are already
BCR customers and they have a good opinion in general of the lender's tangible services," concludes Tatu.
anda.dragan@business-review.ro