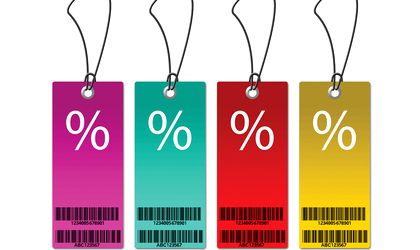 With banks trying to revive lending activity, promotions for some of the credits in their portfolio have become a strong marketing tool meant to give impetus to the local market. Meanwhile, lenders intend to alleviate Romanians' fear of finding themselves unable to repay their loans as a result of reduced purchasing power and insecure employment prospects.
Anda Sebesi
Many banks have tried to boost lending activity on the local market since the beginning of 2010, with promotions for some of the credits in their portfolio being one of the most popular marketing tools.
UniCredit Tiriac Bank, CEC Bank, Raiffeisen, Garanti and BRD-Groupe Societe Generale are among the banks that have taken this approach to reviving lending.
BRD is charging fixed interest of 7 percent a year for its Expresso de Primavara personal loan until May 31. The credit, up to RON 60,000, can be taken out in the local currency, for a maximum period of five years.
Meanwhile, UniCredit launched in the middle of March the campaign "20 percent discount on the interest rate," which promotes lower rates of both fixed and variable interest for its unsecured personal loan – for all five available products – by May 15. The "Credit for anything without a mortgage" product (Creditul pentru Orice fara ipoteca) is offered by UniCredit Consumer Finance in branches of UniCredit Tiriac Bank.
"Now that we're seeing the first signs of economic recovery, we are continuing to be close to our customers by reducing the interest rates for 'Credit for anything without a mortgage'," said Gauthier van Weddingen, CEO of UniCredit Consumer Financing IFN. The TV campaign for this promotion is being rolled out under the name of Dancing for Me (Dansez pentru mine) and has the customer-led message that this loan allows you to make your dream come true. "At the moment it is extremely propitious to make such an investment, with interest rates for this product being very attractive," says Greta Gabor, marketing communication manager of UniCredit Tiriac Bank.
Elsewhere, Garanti Bank decided in the first half of April to continue to offer special conditions for its car loans until June 30. Customers have the option to choose between fixed and variable interest, reduced interest and a 50 percent reduction in commission.
"We launched the offer for auto loans at the end of October last year and decided to extend it for the next three months because we intend to encourage our customers to benefit from the auto deals available in this period," said Okan Yurtsever, manager of the retail banking and bancassurance department of GarantiBank, in a press release in April.
Raiffeiesen Bank has also announced that between April 6 and September 30 it is rolling out a promotional price campaign that targets mortgage-backed borrowing for individuals. During this period, customers benefit from reduced interest margins on new offered loans backed with mortgages – both in RON and EUR.
Meanwhile, CEC Bank launched in April a promotion for its personal loan with life and lay-off insurance, which runs from April 6 to June 30. The interest rate for this type of credit is reduced from 12.15 percent to 10.4 percent, with the value of credit that can be taken out rising from RON 15,000 to RON 40,000, for a maximum period of 60 months.
What is the significance of these moves, apart from trying to revive lending activity on the local market? "Firstly, it is the best sign that the competition between lenders has recovered. Secondly, it is one of the few methods through which the appetite for loans can be revived. Purchasing power has dramatically decreased and people's faith that they can pay a loan back to the bank has also diminished significantly," says Roxana Marin, account manager at 2activePR. In her opinion, it would have been more efficient to build a mix between promotions and brand image communication. "It is well known that any promotion dilutes the brand, and as crowded as the banking market is at the moment, consumers will base their decisions strictly on the technical issues of lenders' offerings," says Marin.
The retail segment has become the main source of profit for lenders in Romania, while risk on the corporate side is still high with some of the credits taken out by companies in previous years having proven to be nonperforming loans. In Marin's opinion, this approach from lenders also has another objective: to alleviate Romanians' fear of taking out a loan. But everything starts from the real needs of each individual to contract credit.
"I think that the current crisis has overturned, in a way, the pyramid of needs for each of us, and financial decisions should take place on a more rational basis," adds Marin.
It is obvious that lenders' battle for customers is fiercer at the moment, as the public's disposable income has been hit. Plus, banks' offerings are much more reserved than in the last few years, with the fall in interest on savings one of the outcomes.
In terms of the means of communication, Marin says they are more diverse (with the football World Cup being an example), while endorsements are more and more popular (Millennium Bank-Holograf). "I think that promotions relate rather to potential customers than to existing ones. Let's be honest, those who have already taken out a medium- or long-term loan can either still make the repayments or have handed back the keys to the properties they bought on credit," says Marin. In her opinion, only those with no prior financial commitments to a bank will be able to take out a loan.
She emphasizes that lenders should pay a lot of attention to adjusting their interest rates for their existing customers (who are already paying off credit at a certain level) and for those they want to attract (likely with lower interest rates). "It is sensible that this issue should be adjusted through adapted offerings and communication," says Marin. But it would be very interesting to see – at least for one year – how consumers reacted (in value and volume) to these promotions and if the mechanisms promoted now have been strong and attractive enough to Romanians.
"It is important to see if the current promotions reach their estimated objective. And I say this because they can't simply be rolled out forever and lenders can't afford the risk exposure of their entire marketing plan being based on promotions which it is known erode the brand," she adds.