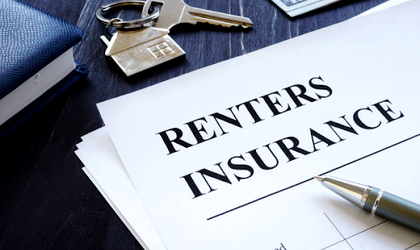 Renters Insurance is a form of insurance for people who live in accommodations where they rent rather than own their home.
Renter's Insurance typically covers the structural components of your living space and provides coverage for personal things in case of damage or loss from vandalism, theft, fire, and other hazards. Individuals who are renting consider it a necessary purchase.
At the same time, those who own homes often need to pay more attention to including this vital protection because they do not think they will ever have to use it.
Why Renters Insurance Is Worth Buying
In most parts of the United States, a homeowner's policy will not cover your personal possession if they are damaged by a hazard or stolen. In this instance, you can ruin all your furniture, clothing, and appliances and lose all the money you spent purchasing or acquiring them.
Having renters insurance is like having health insurance because it protects you against having to go without the things that are important in everyday life.
With that said, many homeowners need to be made aware that their renter's insurance will also cover them in the event of a fire or other structural damage to their homes. For example, you may have an additional policy called a "homeowner's umbrella," which extends coverage to parties beyond your regular homeowner's policy.
This coverage will help you if your home is destroyed in a fire but is only available if you purchase this additional coverage. The cost of both insurance systems can be high, but it is essential to understand both.
Renter's Insurance can cover you if you are held responsible for the damage done to your home. If someone breaks into your house or items inside are damaged by fire, the coverage that comes with renter's insurance will help you receive compensation for your loss. Since you do not own the space that you live in, the landlord will not be responsible for your things.
Most landlords purchase a policy for their tenants that covers the cost of replacing personal items and paying for things like veterinary bills and moving expenses if someone's dog bites someone else or if a tenant's belongings are destroyed due to negligence.
How to Get Renters Insurance
1. Assess Your Insurance Needs
Before you start looking for plans, it is a good idea to assess your needs in terms of both property damage coverage and liability coverage. To do this, you want to research how much it will cost to replace any belongings if they are damaged or stolen.
2. Find a Plan That Fits Your Needs
The coverage could be extensive if you have a lot of furniture and other things you rely on for everyday living. A typical homeowner's policy may need more coverage if you have more than $300,000 in contents. In this case, it would be wise to look into renter's insurance.
3. Shop Around
The best thing is that with the Internet, you can usually get several quotes in a matter of minutes. Spend time looking through different policies and asking questions until you find a policy that fits your needs. Look for a policy that is easy to understand and offers you the most coverage for your money.
4. Make Sure You Understand What Is Excluded from Your Policy
Renter's insurance policies are different, and even if they have similar names, they may have various features. Often, the coverage for your personal belongings and possessions differs from the coverage included with a homeowner's policy.
5. Check to See if Your Credit Score Affects Your Coverage
You may be able to get insurance at a lower rate than someone who does not have a good credit score, but this is only sometimes the case. The fact is that there are different types of coverage, and not all of them can be insured at the same rates.
Location, age, and financial stability are factors that will determine the much it will cost to insure your personal items. In general, a young couple with a good credit score should be able to get a policy at a more reasonable rate than someone in their 60s who has significant credit card debt.
6. Check for Discounts
One of the benefits of having a renter's policy is that most companies will reward you for taking the time to research your needs and shop around.
You can usually save money over the cost of your policy if you find an insurance company that offers discounts to prospective customers. For example, some companies will offer a discount if you mention them on social media or if you can refer someone else to their company.
7. Shop for Additional Coverage
The best thing about renting insurance is that it can be customized to meet your needs in ways that are not always common with other types of insurance. For example, an insurance company may offer more coverage for your items in a rental home than they do for things in your home.
8. Look into Investments
If you take the time to get to know your insurance plan, you can use it to your advantage by combining it with other investments. For example, some companies will offer a credit toward your policy if you pay your bill on time or if you choose to pay ahead on your policy during certain months of the year.
In a nutshell, the above knowledge should be enough to get you started on the right track. You do want to explore your options and then make an educated decision as to what would be best for you and your family.
This insurance can be a beneficial process and one that will benefit you in the long run if you take it seriously. Ultimately it would be wise to remember that purchasing renters insurance will give you peace of mind knowing that you are protected if something happens. With this in mind, you should always consider investing in this coverage.