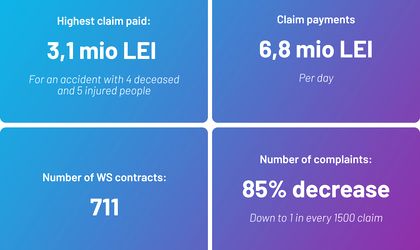 Euroins Romania continues its improvement with better financial indicators in Q1 of 2022. Euroins Romania ranks first in the ranking of insurance companies by gross written premiums for general insurance in the first quarter of 2022, with a market share of 23.2%.
Adding to the ASF report, Euroins provides additional key indicators of Euroins improved financial data in the Q1 2022 Report.
"We are in an accelerated and visible process of extremely demanding, long-term transformation, which we began last year with the change of the entire management board of the insurance company, continuing with significant capital increases (more than 300 milion Lei) from our shareholders and EBRD, which showed commitment from their side to continue to invest in this industry.

Despite challenges that Romanian insurance market is throwing at us every day, we put a lot of our attention and operational activities into the fulfilment of very demanding recovery plan, that we committed to and is being strictly supervised by authorities.

The positive results of our efforts can already be seen in our official insurance indicators and also on the market behavior – faster payments, much more truthful and transparent relationships with clients and partners, normalizing number of complaints.  Our results have also been confirmed both by the latest official report released on the 24th of June by ASF and the press release issued by EBDR on the 26th of June. Both documents provide evidence, in figures, of our performance over the past year and can only indicate the positive trend for the future development," said Tanja Blatnik, CEO of Euroins Romania.
Euroins sales in Q1- strengthening visibility on optional insurance and positive signs of stabilizing its position in the MTPL insurance market
Confidence in Euroins has grown steadily over the last year and increasingly more customers have chosen insurance policies offered by the company.
1,2 million policies of all insurance products were sold in the first quarter, compared to 0,9 last year, meaning the number of customers trusting Euroins increased by 36% in Q1 of 2022 compared to Q1 of 2021.
The highest percentage of growth was recorded in the area of optional insurance – the subscription there is three times higher than last year, resulting in 55 million Lei premium. This important increase in sales is determined by the focus that the company has on diversifying portfolio of insurance products and on the attention paid to the changing needs of its clients.
The biggest increase was recorded in casco product, more than 800 %, showing clear increase of the trust in the company. Other visible lines, which are increasing more than 3 times, are also travel, health, property and liability insurance.
As per ASF report, the market share of Euroins in MTPL in Q1 2022 was 36%, increasing much less then competitors after 45% market share distribution of City costumers. Current evolution shows that by the end of the year Euroins will reach a market share of MTPL below 30%. This is a sign that the insurance market is stabilizing in more balanced distribution on MTPL where Euroins holds stable position, while focusing and growing mostly via facultative insurance showing serious intention of balancing its product portfolio.
The period of payment for material damages was reduced by 86%
The evolution of the period of payment for material damages is a significantly improved indicator. The payment period from the date of the applicant's request to the date of payment was reduced by 86%.  – in Q1 2022 average payment of all claims – in which there were no casualties – is just 5 days, following the request for payment being submitted, by comparison in Q1 2021 the average time to pay compensation was 34.5 days.
Other important indicator of improvement of internal processes is that the number of complaints, reported year by year is normalizing with a decrease of 84% to less than 0,01% of all claimants. Meaning less than 700 claimants or clients out of more than 40.000 claims paid and 1,2 million policies concluded were looking for more detailed answers via complaints in Q1.
"We believe that all our customers must benefit from quality services at fair prices, subsequently, we decided to conclude collaborations with a growing number of car repair shops. Thus, the number of workshop contracts rose from 485 in Q1 last year to 771 in Q1 of 2022, an increase of 59%.

But not only material damages are important figures, we have 411 million Lei paid claims in Q1. The highest compensation paid for a MTPL claim was 3.1 million Lei for an accident which involved the collision of a car with a parked truck and then another car. 4 passengers died and 5 others were injured. Such payments indicate that guilty drivers do not have only car bumps to worry about after causing severe accidents, since not more than 800 lei of insurance premium a person paid for MTPL, also covers such severe cases," said Tanja Blatnik, CEO of Euroins Romania.
Stability of the company is seen also via financial indicators
Under demanding recovery plan and strict supervision of ASF, many financial indicators were significantly improved already in Q1 2022.
"The only indicator that is very hard to influence in MTPL product is number and severity of accidents in Romania and abroad. But to assure coverage of all future obligations, arising from these claims, Euroins' technical reserves that are set aside by the company are more than doubled compared to the same period last year, reaching 2.7 billion lei. This is showing strong commitment of the company to increase trust in its business model and products. In addition, the new management's policy of streamlining the company's costs can be seen in official data, decreasing with 31% compared to last year, "said Tanja Blatnik, CEO of Euroins Romania.
Euroins has been a pillar of the Romanian insurance industry for 28 years.  The company has put its vast experience and expertise at the service of over 4 million customers over time, who rely on their insurance every day.
"We see this data as our responsibility and obligation to provide Romanians the best services possible for them to see all insurance benefits and we promise we will constantly and transparently communicate our progress and achievements. With all this positive development we are confident that we can contribute to a safer and less worrying future for Romanians," added Tanja Blatnik, CEO of Euroins Romania