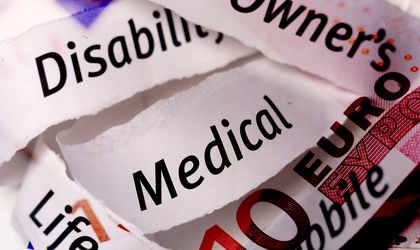 The Romanian insurance market is still facing the difficulties caused by the economic crisis. Uncertainty besets the current global and local economic climate, while austerity is keeping up the pressure on Romanian society, influencing consumer behavior and economic decisions. Insurers told BR how they are responding.
Anda Sebesi
According to the Insurance Market Overview study on Central and Eastern Europe and Romania conducted by Ensight Management Consulting and released in March, the CEE insurance market showed signs of improvement in 2010, registering a 10 percent increase in gross written premiums. The advance was driven by increases in both insurance categories – life (14 percent) and non-life (6 percent). Non-life insurance represents 51 percent of the total insurance market in the CEE region. Although this is down from 54 percent in 2009, it is still higher than the overall European market figure for non-life insurance, approximately 40 percent.
The study also shows that the only country in the CEE region with an insurance sector developed to the European level is Poland. The Polish market is still posting aggressive growth (a 15 percent increase in the overall insurance market, 33 percent for life and 14 percent for non-life insurance distributed through bancassurance in 2010, as compared to 2009). Regional insurance distribution channels registered changes in 2010 due to market share transfer from Direct Writing to Intermediaries (agents and brokers) and to the extensive development of the bancassurance distribution channel in countries like Poland, Croatia and Romania, found the same study.
Local insurance market in 2010…
The researchers found that the concentration degree on the Romanian insurance market rose 11 percent in 2010, after almost doubling in 2009. This was due to the consolidation of various international groups on the market, as well as to the 2010 increase in market share for the big players. The local insurance market is very dynamic, with opposing trends on the life and non-life insurance products. Generally, a higher dynamic on one market segment is accompanied by a lower one on the other. In 2010, the trend reversed for both segments: although the overall insurance market registered a decrease of 6 percent, the life insurance segment notched up a 2 percent increase, driven by the unit-linked life assurance segment which grew by 9 percent, while the non-life insurance segment posted a contraction, for the first time in eight years, of 8 percent in RON.
During 2010, the retail segment of the insurance market increased by 4 percent in life and non-life insurance products, while the corporate segment of the market decreased its non-life insurance spending by approximately 15 percent. This was due to numerous companies ceasing their activities and/or reducing insurance expenses, found the study.
According to the research, overall profit gained on the market fell again by 25 percent in 2010 against 2009, while losses also decreased by approximately 34 percent, leading to a net negative result of 41 million RON.
Researchers found that out of the total gross written premiums for 2010, 15 percent were ceded to reinsurance, 23 percent down on 2009 and a 31 percent fall since 2008. The 2010 decrease in gross written premiums ceded to reinsurance was attributable primarily to the changes made to the reinsurance strategy of most companies. This occurred when product portfolios were adapted to new market requirements and when risk was measured via stress tests.
Ensight's researchers predict that trends on the Romanian insurance market in the next two-three years will include the search for measures to increase activity efficiency and performance, reassessing distribution channels including the more frequent use of bancassurance, activity consolidation and rebranding. The analysis and projected trends were based on data available by February 2012.
…and 2011
But what happened last year on the local insurance market, seen as a year of recovery rather than crisis? According to Insurance Supervisory Commission (CSA) data, total gross written premiums (GWP) came to over RON 7.9 billion in 2011, a nominal decrease of 4.3 percent on 2010 (RON 8.3 billion)."The contraction was caused exclusively by lower underwriting on the general insurance segment, which displayed a drop of about 6.5 percent to RON 6.2 billion in 2011, compared to over RON 6.6 billion of gross written premiums in 2010," says Rangam Bir, CEO of Allianz-Tiriac Asigurari. He adds that the real decrease of the Property & Casualty (P&C) insurance segment was even higher, as the underwriting carried out by local insurers abroad (on the basis of the free movement of services principle) most likely increased in 2011 on 2010. "In this context, the penetration rate of P&C insurance (underwriting volume as a percentage of GDP) in Romania fell to 1.03 percent in 2011 from 1.29 percent in 2010," says Bir.
Among other trends, he cites the more rapid decline of motor hull insurance underwritings in 2011, of about 18 percent, while gross written premiums on Casco posted a decrease of more than 26 percent in 2010. "Simultaneously, for the first time in recent years, in 2011 we posted a significant drop in premium revenues for compulsory motor third party liability (MTPL), of over 21 percent, mainly because of lower tariffs from most of the insurers with relevant activity in this line of business," adds the CEO.
According to the preliminary figures published by the CSA, the average annualized MTPL premium dropped 26 percent in 2011 compared to 2010.
"Without any doubt, the MTPL 2011 average tariff level is unsustainable, given the fact that at the market level for every RON 100 (approximately EUR 22) cashed for MTPL insurance issued in 2011, insurers registered losses of at least RON 25-30 (EUR 7). In this context, it is absolutely certain that 2011 heightened both the aggregate loss insurers recorded on the MTPL sector as well as the net result of general insurance business. 2011 is therefore the seventh consecutive year in which insurance activity in Romania has generated technical losses on the P&C aggregated segment," adds Bir.
What about life insurance?
According to Mihai Popescu, CEO of Aviva Asigurari de Viata, in Romania life insurance has a market share of 19.9 percent of the total insurance market. This is significantly lower than in nearby countries such as the Czech Republic (46 percent), Hungary (53.5 percent) and Poland (58 percent). These differences are also evident in the life insurance penetration rate, calculated as the volume of gross written premiums against the gross domestic product (GDP). In Romania 0.3 percent of the monthly average gross salary is allocated to life insurance, while in other countries in the region the figure is 2 percent. So, while a typical Pole devotes up to EUR 17.2, a Romanian spends EUR 1.5.
Specialists say that annual life insurance sales rose, reaching RON 1.74 billion in 2011 compared with RON 1.66 billion a year earlier. But despite this, the life insurance segment remains at a low level in terms of penetration, with underwritings representing only 0.3 percent of GDP.
"Analyzed in terms of quality, the life insurance portfolio has a high degree of volatility in Romania, given that in 2011 the rate of policy redemption before maturity, although slightly less than in previous years, remained at a very high level, representing over 34 percent of annual underwritings," adds Bir. The minimal economic growth predicted for 2012 could have an influence on the local life insurance market, allaying the fears of investors, the business environment and consumers. Yet such an evolution can't generate immediate positive effects for companies and customers, the more so as marginal increases are the best that can be hoped for. "In this context, I don't expect to see major changes in new sales of products in 2012 compared with 2011 and overall I estimate a slow increase in the market, of about 5-7 percent," says Cornelia Coman, general manager at ING Asigurari de Viata. She also calls for ongoing and concerted efforts to inform and educate people, along with the increase of transparency and simplicity in communicating with both customers and the public. "Offering fiscal deductibility with positive effects for the entire economy could be another significant incentive for developing life and health insurance," says Coman.
Elsewhere, Alexandru Leondari, deputy general manager at Eureko, sees 2012 as a dynamic year with several challenges that the life insurance industry must face. In his opinion, the main obstacle to stabilizing the industry is the constantly changing healthcare reform. "We expect the life insurance market to increase by up to 10 percent, in part because people are aware of the need for personal and financial protection against various risks," says Leondari. He adds that life insurance with capital storage will remain among the best selling products, especially in these difficult times. "Financial protection is one of Romanians' concerns, although for many social classes saving and buying insurance policies has slid down the priority list since the economic crisis and as a result of a decrease in their income," says the Eureko representative.
Insurers face market challenges
Coman of ING says that the insurer has concentrated on two significant areas – enhancing the initiatives developed for the benefit of its customers in order to respond better to their safety, transparency and professional advisory needs, and the healthy development of its activity. "The volume of gross written premiums posted a slight increase at the end of 2011 on the same period of 2010 (up to RON 554.4 million), while the level of assets we managed for our customers reached RON 2.1 billion," says the ING representative. In 2012 she says that the company intends to consolidate its leading position and estimates a slightly higher volume of gross written premiums than in 2011 based on several elements: a more responsible consumer, unique and efficient instruments, a complex range of products and services that meet the protection and saving needs of its customers and the company's staff. "In the meantime we will continue our strategy of putting our customer first. We intend to offer him or her a memorable and unique experience, focusing on offering innovative products and services, diversifying our distribution channels and increasing our level of advice and support during the whole partnership," adds Coman.
Elsewhere, Eureko posted an increase of 1.6 percent in its total gross written premiums last year on 2010, to reach RON 42.04 million. On the life insurance segment its gross written premiums fell 1 percent to RON 30.93 million. As for health insurance, the company maintained its leading position, posting RON 10.47 million on a 5.12 percent increase in its written premiums. "We had a market share of 23.53 percent on this segment at the end of last year," says Leondari. "We expect significant results this year, especially on the health insurance segment where we have a strong presence nationwide, with more than 350 partnerships with medical services suppliers and pharmacy chains like Regina Maria, Sanador, MedCenter, Euromedic and Catena." He adds that the company will focus this year mainly on efficiency and organic growth through optimizing its distribution channels and innovative products.
Meanwhile, Allianz-Tiriac Asigurari posted total earnings from general and life insurance premiums of RON 906.3 million, a decrease of about 12 percent on the previous year. General insurance counted for 89.6 percent of the total earnings, and life insurance 10.4 percent. The firm's operational result posted an increase of 5.4 percent to RON 7.8 million, according to the preliminary annual results according to International Accounting Standards. "While annual results tell only a part of the story of the businesses evolution, the results posted by Allianz-Tiriac in the last part of the year show that we are on the right track," stated Bir in a press release. The volume of business during the third and the fourth quarter of 2011 increased gradually.
"Our efforts to improve the business model are more and more visible. We have become much more accessible to various categories of customers. This is proved by the fact that our retail businesses increased on all classes of facultative insurance last year, while traditionally we manage to stay well positioned in the commercial and corporate areas. We develop optimization programs for operational processes meant to increase the level of satisfaction of our customers," stated Bir.
Last but not least, Vienna Insurance Group posted an increase of 8.4 percent on the life insurance segment in Romania, to EUR 101 million. This trend was supported mainly by the sales made by Banca Comerciala Romana. It also registered a decrease of 7.6 percent on the general insurance segment to EUR 401.9 million.. VIG is present on the local market through Asirom, BCR Asigurari, BCR Asigurari de Viata and Omniasig.
Health insurance or health subscription?
The main difference between health insurance and a health subscription are the services available to the patient. Private medical insurance covers hospitalization, both in private and state-owned hospitals, and also includes surgery, interpretation of medical tests, annual routine or specialized examinations and dental services. Meanwhile, health subscription covers basic medical services but only in the medical unit where the subscription has been taken out.
"Health insurance takes on the financial risk of the customer when he or she has a health problem. As for efficiency, the best option in order to benefit from a wide range of services provided by many medical suppliers is health insurance. It can cover indispensable or expensive services that a health subscription cannot," explains Leondari. According to CSA data, the total health insurance market was worth RON 44.4 million last year, posting an increase of 45 percent compared with 2010.
What the future holds
According to Bir, 2012 should be the first year when balance on the insurance market in Romania is restored, even if the overall economic, financial and social picture does not allow a clear projection. Uncertainty remains one of the characteristics of the current global and local economic climate. Austerity is the second major feature, keeping up the pressure on Romanian society, affecting consumer behavior and economic agents.
"In such a context, we cannot expect a sharp reversal of trends in insurance. In any case, the shift towards the positive territory of the aggregate revenues in the general insurance business can only be achieved if there are profound changes in pricing policies, especially on the compulsory MTPL line of business," says Bir. "Only a responsible approach will allow for a recovery of the underwriting volume on MTPL. Even if it is practically impossible for 2012 to bring a positive technical result for the general insurance market, a positive evolution of margins for the companies that are active in this segment is absolutely necessary for the stability of the local market."
As for the future of the life insurance segment, the Allianz-Tiriac representative thinks that the success of insurance companies will be decided not only by their ability to attract new customers, but also by the results of their efforts to increase the loyalty of the existing ones. "Obviously, in such times of uncertainty, customers prefer products that offer not only a guarantee of compensation in times of need, but also provide savings options. New customers of insurance companies will opt, therefore, mostly for traditional policies, which guarantee the initial capital and a minimum return on investments," says Bir.
One trait of the local life insurance market is the high level of volatility for the life portfolio, mainly for policies with an investment component (for which investment risk is assumed by the client). "It is very likely we will see an increase in life insurance sales in 2012. However, customers need to ultimately recognize that life insurance contracts are not short-term ones, but have a long duration that provides them not only with protection, but also opportunities to save for the future. Short-term thinking about life insurance contracts is not favorable for customers' financial outcomes," concludes Bir.