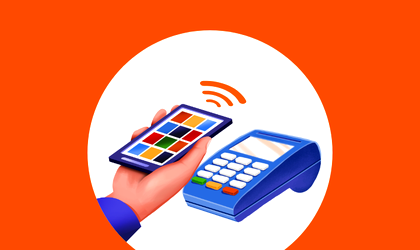 ING Bank Romania has launched the ING Pay mobile payment service for individuals, which can be activated simply from ING Home'Bank after the application is upgraded. The service is currently only available to customers using an Android OS version 4.4 or higher, and a solution for iOS system users will available soon. Upon activation of ING Pay, a virtual card is issued instantly and free of charge, attached to any of the current RON accounts opened at ING.
The client can configure which account is the payment on the phone. Customers can activate ING Pay on two phones registered as trusted devices. Effective payment with the phone only involves getting the POS phone close, with the screen activated and NFC communication enabled.
ING Pay can be used at any POS that accepts contactless payments from home or abroad. If the transaction value exceeds the limit amount set in Home'Bank, the user will enter the pin set for this card directly into the POS. In addition, customers can set from ING Home'Bank the trading limits for payments with the phone.
At each payment with ING Pay, customers receive a notification directly on the phone to control the transactions and amounts approved, as well as the balance. That's why, with this launch, the push alert service becomes free for all ING customers. The ING Pay service does not involve any commissions or fees. ING Pay can be used even if your phone is not connected to the Internet for up to 10 transactions within 15 days. Then you will need an internet connection for a security validation.
ING Home'Bank – one-stop shop 
"70 percent of ING Home'Bank users access the mobile phone service to make transactions, check the account, book an offer in ING Bazar, or take personal credit online. More and more customers want the option of a purely digital bank, a promise we undertake, and payment by mobile is another step in this direction. Relationship with the bank should make our lives easier by simple, affordable, secure and fast services just because they are available online and on mobile. Banking should not be a burden, it should be extremely simple and affordable as any online experience," says Michal Szczurek, CEO of ING Bank Romania.
At present, 625,000 customers are actively using the ING Home'Bank platform, of which 427,000 access it from the mobile phone, averaging 15 times a month. The logon frequency is half for desktop users. At transaction level, the number is similar between the two channels, with an average of 5 transactions per month on the phone and 4 transactions on the desktop.
ING Bank Romania currently has the entire contactless portfolio and reports 700,000 customers that average 16 trades per month at traders' POS.
 "The vision of a digital bank presupposes the exclusive online relationship with the bank and we trust that we will be able to offer this service to our customers. We already see the trend in their behavior by accessing Home'Bank once every two days on the mobile phone, but only a visit per year in office. ING Home'Bank is a banking platform with an ever-expanding range of services, becoming a one-stop shop for customers, "explains Robert Anghel, Head of Daily Banking, ING Bank Romania.