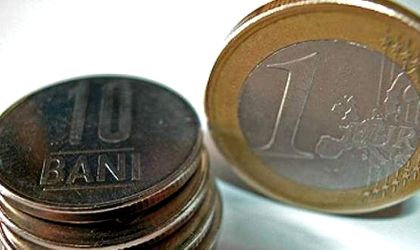 The Romanian currency (RON) is overvalued by 8-10 percent, depending on the model used to calculate it, and the central bank should allow greater exchange rate flexibility as a shock absorber, according to International Monetary Fund (IMF) experts.
"Based on the Index of Real Effective Exchange Rate (IREER) model of the EBA-lite approach, the estimated REER gap implies an overvaluation of about 10 percent," IMF says in its latest 2019 Article IV Consultation staff report.
The cyclically adjusted current account (CA) norm is estimated at a deficit of 1.9 percent of GDP, while the multilaterally consistent norm is estimated at a deficit of 1.4 percent of GDP.
"This implies a CA gap of – 2.5 percent of GDP in 2018 and a real effective exchange rate (REER) overvaluation of about 8 percent, albeit subject to uncertainty around these point estimates," IMF indicates.
REER is the weighted average of a country's currency in relation to a basket of other major currencies, determined by comparing the relative trade balance of a country's currency against each country within the index.
The international institution points out that greater exchange rate flexibility combined with a tighter monetary policy stance in Romania is "critical" for absorbing shocks amid the weak external outlook, while reining in inflation pressure.
Structural and governance reforms should also be resumed in order to boost Romania's growth potential.
"Monetary policy needs further tightening. Inflation pressure is expected to remain elevated, in light of the still sizable positive output gap, strong wage increases, fiscal stimulus, and nominal exchange rate depreciation thus far. Staff projects inflation to stay above the NBR's inflation target band by end-2019 and return to the target band in 2020," IMF says.
IMF's experts warn that the independence and credibility of the central bank is an important asset for policy makers.
"Monetary policy credibility, through well-anchored inflation expectations, provides a valuable buffer for emerging markets, increases resilience to external shocks, and reduces exchange rate passthrough to domestic prices," the report says.
According to IMF, the Romanian central bank (BNR) stressed its commitment to rein in inflation and continue strict liquidity management.
"They shared concerns about the growing external imbalance, including limited prospects for FDI needed to finance it. They agreed with the need for a somewhat greater exchange rate flexibility and underscored the need to balance the trade-off between greater exchange rate flexibility and financial sector stability," IMF indicates.
Romania's external position in 2018 was weaker than implied by medium-term fundamentals and desirable policy settings, according to the experts.
The current account deficit widened to 4.5 percent of GDP in 2018 and is expected to deteriorate further in 2019, suggesting rising external imbalances and moderate exchange rate overvaluation.
"Policy recommendations to address the external imbalance include durable fiscal consolidation, greater exchange rate flexibility, and structural reforms to boost productivity and competitiveness. While deteriorating relative to the previous year, reserves currently remain adequate according to most IMF metrics," the report points out.
IMF says that Romania's public debt continues to be vulnerable to exchange rate risk, with foreign currency denominated debt accounting for about half of total public debt.
"The new pension law presents a significant risk," the experts added.