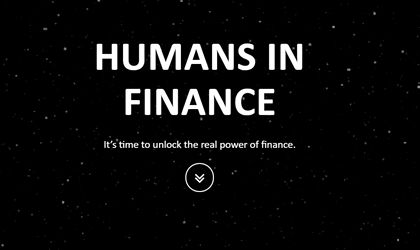 Starting today, entrepreneurs involved in innovative businesses have a financing platform that connects them with investors interested in innovation, called Human Finance. The platform provides funding to entrepreneurs through an educational pathway, boosted by good practice tips, case studies and tests. All this, together with a thorough business and financial analysis, brings the entrepreneurs to the maximum necessary to provide the right funding.
The online financing platform was launched by Andrei Dudoiu and Ionut Patrahau, former vice-presidents of Banca Transilvania, alongside Daniel Mateescu, former Operations Manager of Total Soft, and Iulian Pădurariu, after an initial investment of EUR 90,000.
Human Finance brings a marketplace of applications to both entrepreneurs and investors, designed to accelerate business education assimilation and increase the transparency of innovative businesses. The first application in the marketplace is Digital CFO, which helps entrepreneurs become the financial executives of their own business, offering comfort to them as well as to investors and bankers. Through Digital CFO, Human Finance identifies the need and pattern of equity or loan financing, and the opportunity for one or more investors to participate in financing each business. Human Finance opens the platform to partners who adhere to 'Human – Get knowledge. Get funding' to integrate their own products and services.
"In my 20 years as a banker, I have come to the conclusion that in many cases the lack of education and business experience leads to a lack of access to finance. Private funders also have important funds that they would invest in start-ups, but they are looking for innovative ways of investing and safeguarding transparency and professionalism for entrepreneurs in new industries. Both them and the banks would become more active on this segment if they had more certainty. We believe in the new economy and we want to better connect the two worlds – innovation and financing, worlds that at the moment intersect randomly and sporadically. We are proposing that by the end of 2019, Human Finance should have had helped financing 100 businesses, from a community built by 1,000 innovative companies. Over three years, we want to reach 100,000 start-ups in this region of Europe," says Andrei Dudoiu, co-founder of Humanfinance.ro
The four founders are the former bankers Andrei Dudoiu and Ionut Patrahau, both former vice-presidents in BT and innovators in the small and medium business area, Daniel Mateescu, former COO at Total Soft and founder Keez.ro and Iulian Pădurariu – entrepreneur and marketing strategist.