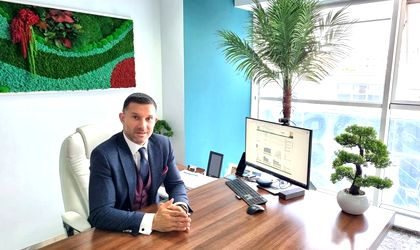 EUR 350 mln. are allocated to Romania by the end of this year for digitalization. The European Commission finances Romanian entrepreneurs thru The National Recovery and Resilience Plan. Up until now, 50 projects were submitted for approval. Petru Luhan is an expert in European Funds and has a few good tips for all Romanian entrepreneurs and authorities who are trying to get these funds.
What traps should those who want to apply for funds for digitization be aware of?
The first trap is choosing the wrong consultant. If he does not make the correct interpretation of the company's eligibility, if he does not know the criteria that must be met after implementation and if he does not do the DESI analysis correctly with the help of an IT company, the project may be rejected or cannot be implemented.
Do you have state institutions among your clients?
We also help state institutions, if they request it, but our company – EMAS BUSINESS CONSULTING – mainly focuses on the private sector and we have clients from the smallest (mainly start-ups) to the largest companies, both from Romania and from abroad, for which we develop large-scale projects. More important than the type of client are the areas in which we can deliver services, for which we can develop projects and financing applications. We focus on the success that we can achieve for our clients because, in the end, we are talking about the development of a company that helps the state to collect more money after the implementation of the investment. And last but not least, we are talking about some expectations or even dreams of potential beneficiaries of European funds, which we want to help come true.
Tips and tricks for creating an admission file that will be accepted?
The most important thing when writing a project is to know the principles that underlie the development of the guide, implicitly key performance indicators that the Romanian government must report to the European Commission, for the budget allocated to the financing programs. A business plan must respond completely and accordingly to the evaluators' understanding of all the requirements of the financing application and especially to meet the DESI criteria, in the case of a digitalization program.
You are a specialist in European funds. Can European money really be the solution for the digitization of Romania?
Yes, this infusion of capital will significantly modernize the business environment, but I do not consider it sufficient to modernize all the companies that need it. Between 5,000 and 10,000 companies will be eligible beneficiaries and may receive financial support, but we still have many companies who have more needs in this sense. I believe that the government will have to allocate additional resources this year and in future years to have a more efficient business environment in terms of digitization and innovation.
What are the amounts received through these programs?
Depending on the type of enterprise, non-refundable financing is:
between 20,000 and 30,000 euros for a micro-enterprise, i.e. an enterprise that has up to 9 employees and achieves a net annual turnover and/or a total annual balance sheet of up to 2 million euros, equivalent in lei;
between 20,000 and 50,000 euros for a small enterprise, i.e. an enterprise with less than 50 employees and an annual turnover and/or a total annual balance sheet below EUR 10 million, equivalent in lei;
between 20,000 and 100,000 euros for a medium-sized enterprise, i.e. an enterprise with less than 250 employees and an annual turnover that does not exceed 50 million EUR.
What can be bought with European money?
Within the "Digitalization of SMEs" financing program, eligible expenses are computer equipment, IT equipment and software and all electrical, electronic and digital equipment that contributes to the innovation of the production process. Also, services of a third party (enterprise) can be purchased, such as:
a) expenses with consulting/analysis services to identify the technical solutions that the SME needs, provided that the technical solutions identified and described in the technical documentation are the subject of investments within the project related to the funding request;
b) expenses related to the purchase of ICT hardware, equipment for automation and robotics integrated with digital solutions and other related devices and equipment, including for E-commerce, IoT (Internet of Things), blockchain technologies, etc., as well as installation expenses, configuration and commissioning;
c) Expenses related to the creation of the LAN/Wi-Fi network;
d) expenses related to the acquisition and/or development and/or adaptation of software applications/licenses, expenses for the configuration and implementation of databases, migration and integration of various existing data structures, for financial management, supplier management, human resources, logistics, expenses for implementation of RPA (Robotic Process Automation), ERP (Enterprise Resource Planning), CRM (Customer Relationship Management), for IoT (Internet of Things) and AI (Artificial Intelligence) systems, blockchain technologies, E-Commerce solutions, etc. and their integration in BTP (Business Technology Platform), where applicable;
e) expenses related to the purchase of a company presentation website;
f) expenses related to the purchase/rental of a new domain name during the implementation and sustainability period of the project;
g) expenses with services for converting archives from analog/folders/paper to indexable digital;
h) expenses related to the purchase of Cloud Computing services during the implementation and sustainability period of the project
Petru Luhan, EMAS BUSINESS CONSULTING