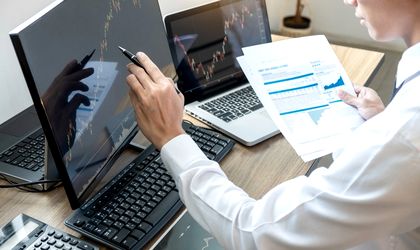 Constant change is inevitable when it comes to the foreign exchange market (known as forex). With this highly liquid market receiving trillions worth in trades each day, currency values can rapidly fluctuate at any moment. In order to stay one step ahead, it is essential that you not only know the movements of currency values, but what causes them.
Forex, possibly more than any other trading market, is majorly affected by a range of different external, worldwide factors. Being the world's largest financial market, forex operates through the trading of currency values against others. This highly volatile market can, in a matter of months, weeks, or even a few hours, go through significant changes that increase or decrease the values of currency pairs. For more expert information, explore basic forex trading strategies from Plus500's handy blog and website.
When trading on the forex market, such as opening a Contract for Difference (CFD) to profit from price movement speculation, you must be aware of how certain factors cause these changes. A prime example is found by analysing the recent performance of one of the markets most traded currencies – the Euro.
Read on as we talk you through how the value of the EUR has changed over the last five months, and how measuring these movements can benefit your trading decisions moving forwards.
October/November 2021
The single most heavily traded currency pair is the EUR/USD, seeing as these currencies belong to two of the world's biggest economies. This will be how we best measure the value of the EUR in this period.
At the start of October, the EUR came in at 1.16 USD, which stayed fairly consistent until the beginning of November. This is where, however, the EUR declined fairly rapidly throughout the month to end on 1.12 USD beginning of December.
The main possible reason for this sudden decline is the impact of the COVID-19 pandemic. In November, many European countries went back into more severe lockdown restrictions. on top of this, the Omicron variant was on a huge rise across Europe.
With significant reductions in the number of employees available and open businesses, the economy naturally took a big hit. The Euro zone (Europe's economy) recorded a record high inflation rate of 4.9%. All of this potentially explains the EUR's sudden decline in value.
December/January 2021
Throughout December, the value averaged at around 1.25 USD, still reeling from the impact of coronavirus restrictions in November. However, in January, the EUR took a drop down to 1.1 USD on January 26th, before making a rapid increase on January 30th, leaving it at 1.14 USD on February 4th.
This is most likely due to Chairman Powell's speech on Federal Reserve rate hikes on January 26th. Chairman Powell predicted huge interest hikes, leading many traders to bet against the USD, thus decreasing its value. This more than likely explains why the USD dropped in value against many currencies, including the EUR.
February 2022
At present (February 22rd), the EUR sits at 1.13 USD. With tensions rising in Ukraine, the value of the EUR is seeming to hang in the balance of how this event unfolds. The value has slowly dipped from its peak at the beginning of this month, most likely due to the advances Russia has made on Ukraine.
Traders worldwide are beginning to strategise their investments in anticipation of this event, which if followed through, might greatly lower the value of the EUR/USD.
The EUR has undergone a vast number of changes in value from October through to February, mainly due to coronavirus impacts and interest rates in the US. Moving forward into March, the impeding invasion of Ukraine is most certainly an event to keep your eyes on, helping you maintain optimal accuracy on EUR value predictions – which may very well include another decrease in EUR value.