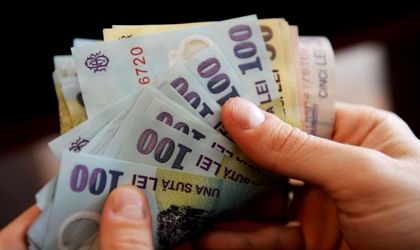 Gross wages in Romania's private companies increased by an average of 9.4 percent in 2019, according to the PayWell Salary and Benefits Survey conducted by PwC Romania. The salary increase reported for 2019 exceeds the 4.6 percent level estimated for this year by respondent companies in the survey's previous edition. For 2020, private companies are estimating a 5.7 percent average gross wage increase.
The highest average wage growth in 2019, of 14 percent, was recorded in the hotel sector, according to the PwC study. Above-average increases were also reported by industry (+11 percent), leasing (+10 percent) and retail (+10 percent).
According to Paywell 2019, the average gross salary among respondent companies rose to RON 5,941 from RON 5,428 in 2018.
In terms of staff categories, PwC finds that the tendency of faster wage increases among unskilled or low-skilled personnel (workers, operators) continued, with an average growth of 10 percent.
Compared to previous years, however, when salaries at the managerial levels stagnated, 2019 saw operational management positions increasing by 13 percent and top management positions by 9 percent. At the opposite end, with just 5 percent raises, were administrative staff, technicians and employees with little experience.
"We note that the wage increase in 2019 was higher than the level predicted by companies included in Paywell last year, influenced mainly by the workforce shortage, but also by developments in the public sector and by government decisions regarding the minimum wage. As a result of the cumulative increases of about 50 percent that have taken place in the public sector since 2017, the ratio between the PayWell average income, representing mostly medium & large companies, and the national average income has dropped from 1.4 to 1.16 during this period. In this context, private companies face a double pressure: from of the public sector, which has become much more attractive for employees, and the workforce shortage, which has intensified in recent years," said Daniel Anghel, Leader of the Tax and Legal Department at PwC Romania.
In terms of benefits, the PwC survey shows that meal tickets, annual leave days and special occasion bonus continue to dominate. However, compared to previous years, the biggest increases in popularity were recorded for time management benefits (flex time, work from home) and benefits related to employee wellbeing (book rentals, health programmes, etc.).
"Employees have started to appreciate other benefits besides the traditional ones. For example, transportation benefits, flex time or work from home are more frequently requested. As the labor market is becoming more competitive, employers are increasingly concerned about developing various benefits packages and an attractive work environment, to be preferred by employees or to retain them. The increased attention paid to the use of benefit programs as a differentiating factor is a sign of the labor market's sophistication as the standard of living increases. This trend will continue in the coming years, with potential for acceleration if fiscal legislation further encourages the promotion of certain benefits, which may also have a positive social impact (health insurance, pension plans, etc.)," said Oana Munteanu, Senior Manager at PwC Romania.
Other findings of the study
Top average gross salaries in 2019 by department were in Strategy – RON 12,220, followed by Legal – RON 11,026 and IT – RON 10,769.
Bucharest continues to lead the earnings ranking, with an average salary that was almost double Muntenia's.
At county level, the top five best-paying are Bucharest-Ilfov, Timis, Cluj, Brasov and Iasi.
The largest wage increases in 2020 are estimated for retail, of 7.42 percent, the pharmaceutical sector, 6.3 percent, and banking, 4.73 percent.
PwC conducted the survey on 100 private companies from the Banking, Leasing, Pharmaceuticals, Industrial products, Retail and Hotels sectors.