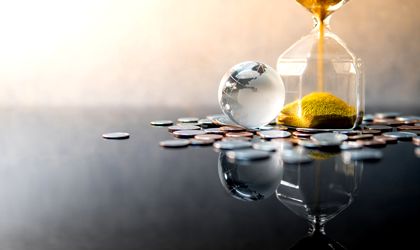 Global financial wealth reached a new high in 2020, rising 8.3%, as strong stock market performance and a spike in household savings fueled a wealth boom amid the COVID-19 pandemic, according to a new report by Boston Consulting Group (BCG).
That development is in stark contrast to the impact of recent global crises: during the 2008 subprime crisis global financial wealth declined 7.8% and it stagnated when the dotcom stock market bubble burst in 2002.
The financial wealth of Romanians increased 9% last year on 2019, calculated at constant currency, faster than Western Europe's 4% rise, but slower than the 12% gain in Eastern Europe, which also includes the Baltics and Russia, BCG said, based on its freshly published Global Wealth Report.
"Wealth concentration in Romania shows a less polarized society than elsewhere in Eastern Europe. A strong segment of people, who own less than 250k USD, accounts for 58% of total financial wealth," said Nimrod Pais, BCG Managing Director and Partner. "At the same time, the share of those with over 100m USD net worth is higher than globally: 16% versus 13%, but that rate is only half of the 32% Eastern European average," Pais added.
Romanian asset allocation is characterized by a strong growth in life insurance and pensions, and the share of equities is much lower than globally, or elsewhere in Eastern Europe, the data show. The share of cash and deposits is well below the Eastern European average, but it still lags the global averages, which reflects a slightly more advanced savings market than at Romania's Eastern European peers, Pais said.
The report, titled Global Wealth 2021: When Clients Take the Lead, reveals that many wealth management clients in 2020 embraced alternative investments in their quest for higher returns, shifting away from low-yield debt securities. As part of this trend, real assets, led primarily by real estate ownership, reached an all-time high of $235 trillion. Still, Asia, which has the largest concentration of wealth in real assets ($84 trillion, 64% of the regional total) will see financial asset growth exceed real asset growth (7.9% versus 6.7%) in the coming years. Asian investment funds, except for Japan, will become the fastest-growing financial asset class, with a projected compound annual growth rate (CAGR) of 11.6% through 2025.
According to the report, North America, Asia (excluding Japan), and Western Europe will be the leading generators of financial wealth globally, accounting for 87% of new financial wealth growth worldwide between now and 2025. BCG forecasts that due to Asia's massive financial growth, Hong Kong will replace Switzerland by 2023 as the market leader for managing cross-border wealth.
As for Romania, BCG forecasts that the financial wealth segments remain stable here in the next five years, with a slow growth of the richest quintile and a very slow decrease of the segment with wealth below 250k USD.
The New Ultras: China will Outgrow the US
The "ultra" wealth category—individuals whose personal wealth exceeds $100 million—expanded in 2020, with 6,000 people joining the 60,000-strong cohort, which has seen year-on-year growth of 9% since 2015. The category currently holds a combined $22 trillion in investable wealth, 15% of the world's total.
According to the BCG, China is on track to overtake the US as the country with the largest concentration of ultras by the end of the decade. If investable wealth continues to rise there at its current annual rate of 13%, China will host $10.4 trillion in ultra assets by 2029, more than any other market in the world. The US will be close behind, with a forecasted total of $9.9 trillion in such wealth by 2029.
The faces of the ultras are changing too, with the rise of the next-generation segment. These individuals, between 20 and 50 years of age, have longer investment horizons, a greater appetite for risk, and often a desire to use their wealth to create positive societal impact as well as earn solid returns. Many wealth managers are not yet ready to serve these new ultras.
High-growth markets represent a massive opportunity, but wealth managers must build a genuine understanding of local differences and also key demographic changes. For example, women now account for 12% of ultras, most of whom are based in the US, Germany, and China. The next-gen segment is also going to be an influential driver of future growth in the next decade or so. Whether it's a simple-needs or ultra-high-net-worth client, managers need to offer a personalized service to effectively capture the next wave of growth.
Financial wealth: Financial wealth is defined as total wealth excluding real assets such as real estate, consumer durables, liabilities, non-monetary gold ad other metals, held by adult (18+) individuals.
A copy of the report can be downloaded here.