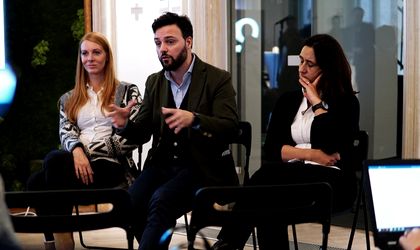 Banca Comerciala Romana (BCR) launched George, the digital banking platform, in Romania just a month ago and it already has over 100,000 users, with 3,000 new users adding every day.  Erste Group, the entity that owns BCR, developed George in Vienna labs, with an international team that included 10-12 Romanians.
Erste decided to start a R&D division in 2012 and Maurizio Poletto was named manager of the new digital innovation hub. He formed a team with people form the bank but also from outside the bank, in order to have views that were not from the financial business. The team that later created George was present in Romania to talk about the experience they had while making the new platform.
Maurizio asked, in 2012, for a 3-year period of development before they would be asked to launch something.
"We created apps that worked and apps that didn't work. Among them there was one that allowed users to see their bank account balance without logging into the account. The app was a huge success in Austria," says Poletto, that explained that over 100 logs to the platform, only 5 are made to perform an operation, which means that 95 times people entered the username and password just to see their balance.
So they started to work on a new platform for digital banking because they wanted something different so George was launched in Austria in 2012. The team behind George had over 100 people and it is still expanding. Now the app is available in three other countries, the Czech Republic, Slovakia and Romania and next year will be launched in Croatia and Hungary.
"George aims to help users understand their financial behavior better. That's why its design is simple and friendly. It is our responsibility as a bank to make sure that people know and understand how much money they have and how they spend and what they can do with that money," says Poletto.
"I would like to see that those who do not have a BCR account use the platform we developed. This will be proof that he deserved all the work he has done in creating an experience around George. That's why we cannot wait for the PSD2 directive to come into force. Then we will be able to integrate into George and the accounts that users have with other banks. In Austria this is already happening. At this point, you can manage through George and the accounts opened with the other banks," says Poletto.
The platform was installed as a stand-alone app, on top of the banks the Erste Group has in different countries. "Through George, Erste Group aims to create the first pan-European banking platform that offers a full range of financial products and services," says Poletto.
"George has 3.8 million users. In January next year we will reach the threshold of 4 million users. We are extremely excited, especially since we are constantly working on improving the platform," says Isabella Frey, responsible for mobile apps, George Labs, that explains also that "in Austria, there is an interface with which George interacts with Alexa, the virtual assistant developed by Amazon."
Launching the app in Romania it proves to be a success seen in the number of users that have already downloaded the app and it is using it, over 100,000. BCR has over 1.2 million customers enrolled in digital services, out of which over 400,000 use the mobile version of digital services monthly.
"At the local level, around George, a complete digital ecosystem has been developed, with a current account and an attached card, which can be contracted exclusively online after December 1st. So far we have tested the whole process. There are a few steps that need to be taken. First, the client needs to scan their bulletin, and then the user is asked to take a self-image. The system makes a comparison between the bulletin and the self-image. If the system says everything is ok, the customer chooses his / her card and specifies the location to be sent to him / her. The next step is a video chat with a BCR specialist who checks the identity of the customer. Next, the electronic generation of the contract will follow, which will be signed by both the client and BCR representative by qualified signature. Then the account generation process starts, the customer receives credentials and access to the platform, the card being sent to him via the Post Office," says Cristian Mustata, head of digital strategy department at BCR.
The George Package also comes with a number of benefits, including a 0 commission on withdrawals from any ATMs in the country or abroad.
"George's self-filling feature (recognizes what you're after a few keystrokes) is the most popular user experience. In the first quarter of next year, BCR customers will be able to make direct payments from George by phone," says Mustata.