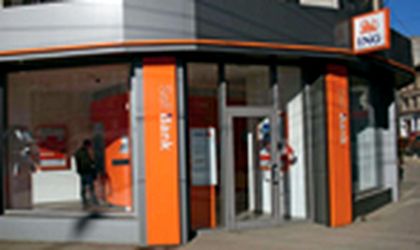 Back in 2005, two lenders decided on a novel means to grow their territorial presence and their brand awareness at half the costs they had paid until then. The magical cure-all solution was franchising. First ING Bank and then Volksbank in November 2005 decided to resort to this new way of expansion and since then they have remained the only lenders to employ this expansion strategy.
Their decision is one of the factors that single them out from the other almost 40 banks in the local system. The other one lies in their cash-ins and net assets this year.
Since expansion is what inflated or trimmed down most of the local banks' financial performances in 2007, lenders who adopted similar strategies to growing should post somewhat comparable financial results, it would seem – at least to someone who does not know of ING Bank and Volksbank's contrasting evolutions, which placed one of them high up in lenders' top ten charts and the other one at the bottom.
The two banks' preference for franchising has little to do with their financial results this September, said Dragos Cabat, president of Chartered Financial Analysts (CFA) in Romania.
"It is more a question of what share of their loans was outsourced to parent banks abroad and also of the competition on their market segments. Furthermore, the two banks have differing corporate/retail portfolios, although their franchised units mostly target retail customers," Cabat said.
This is how two banks employing similar approaches to expansion end up at opposing corners of profit diagrams.
More precisely, Volksbank has succeeded in achieving the highest rise in this year's 3Q rankings. The lender was not even part of the top ten at the beginning of the year. However, its fast-paced growth took it first to tenth position and now to eighth.
There are many reasons behind Volksbank's very good results, said Gerald Schreiner, president of Volksbank Romania. Two of them are the highly standardized individual credit process which allows the bank to process loans within approximately one hour and the concentration of alternative sales channels. Another one is the dynamic branch expansion, said Schreiner, which affected the bank's short term cash-ins.
"The dynamic branch expansion decreased the potential profitability by approximately EUR 6 million in 2007, but of course improved the future profitability of the bank. Currently the franchisee partners support the net loan increase with approximately 25 percent. The other alternative sales channels support it with an additional 15 percent," said Schreiner.
Volksbank opened 53 branches this year, thus reaching a total 123. Aside from them, there are 75 Volksbank franchises throughout Romania, specializing in granting retail loans. Initial plans for 2007 announced at the beginning of the year included the bank's expansion to a total of 230 units, a presence in cities with fewer than 50,000 inhabitants and later on an expansion in rural areas – all of which included a continuing focus on franchises. Latest statements say the lender will open 12 more units by year-end and even more franchises, 15, which would bring their number up to 90, and their weight to 40 percent in the bank's entire branch network.
Volksbank's dual growth system seems to have paid off so far, as the bank had the sharpest development this year, upping its assets 166 percent against the corresponding period of 2006, to EUR 2.7 billion. By year-end, the amount will go up to EUR 2.97 billion, said the bank.
"Volksbank Romania's strategy is to reach a 4.5 percent market share next year and attain a substantial growth in assets and in all business segments. Our long-term strategy is to achieve a top five position by the end of 2011 and to improve substantially the client service and product portfolio," said Schreiner. "We expect in 2008 a profit growth of 50 percent to a total of EUR 36 million, which will of course still be influenced by opening 65 new branches," he added.
On the other hand, ING Bank took the sharpest plunge in the 3Q rankings, falling three positions and reaching to the tenth place at the end of September.
The bank has currently 141 Self'Bank units and 26 wholesale banking branches. "This year alone, at ING Wholesale Banking, seven new corporate/wholesale branches became operational. Also, ING Retail Banking opened 47 new ING Offices; the total number of ING franchised units is 141," said the bank reps.
"ING Bank Romania aims to be a top five bank on the Romanian market and to reach 1 million clients by the end of 2008. In order to achieve this objective, we will continue the network development (for both wholesale branches and retail offices), will launch new products and focus on new market segments," said representatives of ING Bank. The lender is also pondering on a third way of growing, should the opportunity of an acquisition arise, according to Misu Negritoiu, ING Bank's general manager.
Contrasting results of franchising have left other banks considering the pros and cons attached to it.
"The decision to franchise or not is a strategic decision by the management: on the one hand, expansion costs are minimized, on the other hand it is more difficult to control the quality and the involvement of franchisers. Alternative sales channels were launched relatively recently in Romania and do not have a long history in Europe either," said Cabat.
He added: "Various banks study alternative channels that are cheap to implement and give them access to the target market they are going for. On the other hand, each alternative sales channel goes well with certain types of products. Depending on the range of products, the bank will also develop the channels that best suit its purpose."
He added that in the future the number of banks resorting to franchises might increase, as it will naturally follow the general growth of alternative sales channels taken up by banks.
"Franchising is an alternative for banks with a rich range of simple products aimed at individuals and a relatively experienced sales force, which is interested in this concept," said Cabat. Aside from that, lenders would also need an IT solution that can be easily implemented into the new branches, the CFA president said.
Ana-Maria David