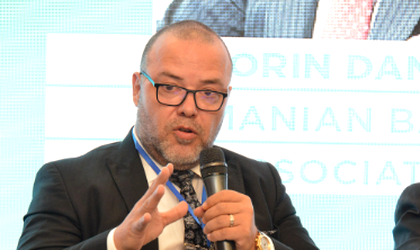 For the banking system, the digital agenda is very important and Romania is above Bulgaria from this perspective, but it still has a long way to go, said Florin Danescu, Executive President at the Romanian Banking Association, at Business Review's Foreign Investors Summit.
"The gap between Romania and other EU member states is decreasing and we have a lot of potential. But we still have a long way to go," says Florin Danescu.
Romania is among the last countries in the European Union when it comes to the adoption of banking services at the population level. That is a problem that can be solved only through education. "At the RBA we are making financial education ant the banks are very active in this field, but it is not enough when we consider the entire population," says Florin Danescu, adding that the main 11 banks had taken action in educating people and are trying to help the economy in general.
The low financial intermediation level is not seen just at households' level, but also in the corporate sector, where only 80,000 companies are eligible for loans out of 400,000 active companies.
The banks remain the main financing body of the economy, with 75 percent of the entire financing volume in Romania. But the banks are confronting with difficulties coming from the authorities.
"We have to increase the capital and we have an additional tax. the biggest tax in Europe. And all this while half of the country have no-tax due," says Danescu, adding that the situation is not good for the economy in general.
And while the people in the banking business are the most experienced in economy, the importance of the economist in Romania is not at the same level as it is in the EU. This means that the authorities are not listening to banking representatives, not even willing to have a dialogue.
"We are trying to explain to the government that they should use the specialists from the private companies and their professionalism. We have to create a dialogue and afterwards to improve it," says Danescu.
As the representative body of the banking system, RBA also tried to "decrease a predictable thing, which is the fact that Romania is unpredictable."
"We tried to have a protocol with the Romanian government in order to have 10 years of predictibility. If we can change this lack of predictability in the future, it would be the greatest reason for optimism," says Danescu.
Also, in terms of the digital agenda, Romania is above Bulgaria among the EU countries, but the digitalization is still at a very low level and it should be pushed with a greater force than it is today.