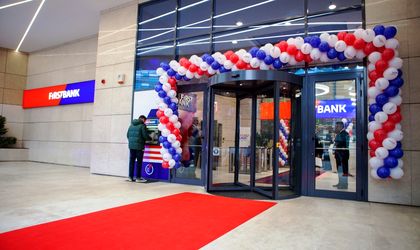 First Bank announces the signing of an agreement with Bank Leumi le-Israel B.M for purchasing all the Bank's holdings in its subsidiary Bank Leumi Romania. The value of the transaction is not subject to public communication.
The purchase is yet to be approved by the National Bank of Romania and the Romanian Competition Council and is expected to be finalized within the second part of the year.
Bank Leumi Romania owns a national network of 15 branches, employs 200 banking professionals, has assets of 250+ million euros and 150m euros in deposits.
"This acquisition is part of the bank's strategy to increase and consolidate its presence in Romania, aiming to become a strong banking player on the local market. This is the second acquisition that the American investment fund JC Flowers & Co. has made on the Romanian market in less than a year proving its interest and commitment in this valuable market. As a value-based acquirer we remain open to similar growth opportunities. Meanwhile we will continue to do business "The American Way", focusing on growth through quality service to customers, digitalization and efficiency," said Dominic Bruynseels, Executive President First Bank.
"The sale of Bank Leumi Romania to First Bank, which is owned by a leading international financial entity, will enable the continued implementation of Leumi's 'follow your customer' strategy. This agreement constitutes yet another step in the implementation of Leumi's international deploymentstrategy, which is focused on commercial banking operations through our subsidiaries in the US and UK, and in other regions through collaborations with leading local entities," said Hanan Friedman, First Executive Vice President, Head of Strategy, innovation and Transformation Division.
Based in Bucharest, First Bank provides a broad range of products and services targeting both domestic and international customers, including retail, SME and corporate banking services.
First Bank operates through 100 branches, 1300 professionals and has approximately 130,000 active clients.