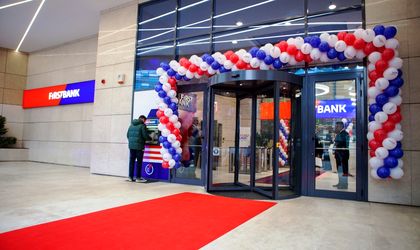 First Bank officially opened its first branch under the new name and brand identity. By the end of the year, all 40 Piraeus Bank branches in Bucharest, as well as the banking unit in Alba Iulia, will have the new First Bank brand identity.
"As some of you probably know, we were "reborn" on June 28, when the American Investment Fund J C Flowers acquired Piraeus Bank Romania. It was the beginning of a profound transformation for us. We are now working with a new shareholder, a new Board of Directors and a new management team. Today you see the physical side of this transformation in our headquarters – I hope you like it – and there will be many more. This transformation will take several months, but by the end of February we expect it to be completed across the country," said Dominic Bruynseels, executive president at First Bank.
Early next year, the rebranding process will be extended to branch offices in the country. The bank was acquired by the American Investment Fund JC Flowers & Co in June 2018.
It is the first investment that the American fund JC Flowers & Co. makes on the market in Romania and Central and Eastern Europe.
In Romania, the bank owns the only online shopping platform through video interaction, 100 branches and has over 1,200 professionals at the disposal of its clients.
First Bank is a universal bank, serves all categories of customers and offers the full range of banking services and products. Headquartered in Bucharest, First Bank offers a wide range of products and services to both local and international clients, including retail, SME and corporate banking.
"Today we are starting a new project with a strong American shareholder, having partners our clients and the media. I'm sure it will be a successful project. We are building together a responsible Romanian financial institution dedicated to the long-term added value of all our stakeholders: shareholders, customers, local communities, Romanian society. We will actively support the National Inclusion and Financial Education Program," said Nicolae Danila, chairman of the board of directors at First Bank.
First Bank operates through 100 banking units, employs 1,200 specialists and employs approximately 130,000 active clients.
J.C. Flowers & Co. is one of the leaders in the private equity business, dedicated to global investment in the financial services industry. Founded in 1998, J.C. Flowers & Co. has invested more than $ 15 billion in 53 portfolio companies in 18 countries across a variety of financial industry sub-sectors, including banking, insurance, reinsurance, specialized financial services and asset management services. J.C. Flowers & Co. manages assets of about $ 6 billion and has offices in New York and London.