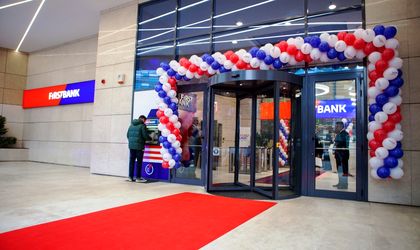 First Bank has recently announced the intention to invest EUR 7.5 million in digitization and the transformation of its internal structures to integrate new technologies. In the same time appeared the news that the bank is aiming to close 40 branches and lay of a big part of the employees.
Business Review asked the bank for an official point of view since all the info that appeared in the media was quoting sources from inside the bank.
"At this point, the measures resulting from the digitization process are subject to consultations with the trade union. We plan to close and / or merge 40 branches. We estimate that 379 employees will be affected. We want to emphasize that these figures are estimates by the end of the legal consultation period with the union," says the bank in the official answer to Business Review.
The bank points out that the decision was not taken yet, talks with the trade union being still carried. Today, First Bank operates through 100 banking units, and employs approximately 1,200 employees.
On June 28th, 2018, Piraeus Bank Romania was acquired by JCF IV Tiger Holdings, entity belonging to J.C. Flowers. This was the first investment made by the investment fund on the Romanian market and in Central and Eastern Europe. The bank was renamed First Bank and it has begun a process of transformation of its branches to the new brand and logo.
The lay-offs and branch closing is also a part of the restructuration and streamline of the bank activity. The bank officials didn't mentioned OUG 114 as one of the reasons for the activity restriction.