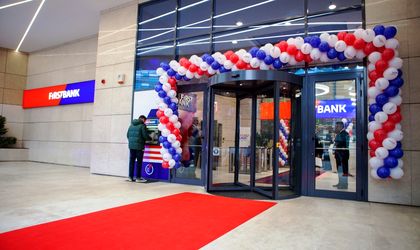 First Bank board of directors approved the strategic directions for 2019. The bank accelerates the digitization process and rethinks its internal processes to support the integration of new technologies. Also, it aims to increase both organic market share by launching optimized products as well as through possible acquisitions.
To meet new customer preferences and exigencies, the bank will invest EUR 7.5 million in technology and will strengthen its internal capacity to generate more efficient, fast and fluent processes.
Investment in digitization aims, among other things, to optimize existing processes and reconfigure analysis and reporting systems.
All these optimizations will reduce demand processing time by about 50 percent and reduce the bank's response time to its customers. The digitization solutions will be tested, analyzed and implemented in the next 20 months.
"Our customers are increasingly looking to carry out banking operations anytime, anywhere. A mobile banking application is now more appreciated than the proximity of an ATM or bank unit. Last year, in Western Europe, around 20 percent of customers visited a bank unit less than once a year, and their number is rising. We want to meet these expectations and shape a flexible and visionary organization that can anticipate the rapid pace of change in customer preferences. At the same time, we want to assure our customers that through our consultants we will stay with them anytime they need personalized assistance that goes beyond the limits of modern technology," said Dominic Bruynseels, executive chairman, First Bank.
Redesigning processes for optimum balance between technology and human contact
Globally, more than 70 percent of banks believe that the development of the ability to create new banking solutions is a priority. This trend defines the banking sector, which needs to rapidly integrate new services to meet the challenges of Fintech companies that partly provide banking services.
"We want to increasingly use the benefits of automation and intelligent data usage to better respond to the needs of our customers. We will complete this new approach with a Mobile Sales Team that will provide advice. We noticed that our customers' need for human interaction remains current in situations involving personalized banking solutions," said Bruynseels.
The Company will create in the coming months a Sales Furniture Team of approximately 150 people.
Process adjustment will involve changes to workflows, structural reconfiguration of the organization to avoid redundant activities and a revision of the territorial unit network structure. Depending on the profitability and commercial development potential of the geographical areas in which they are located, some of the units will be merged and others will be closed, simultaneously with the corresponding reduction of the number of employees at both the network and the headquarters level.
In the next 6 months, all these processes will take place in parallel. We estimate that the transformations will be visible in the third quarter of 2019. The first new solutions based on digitization and technology will be launched during the 3rd and 4th quarters of 2019 and the complete digitization process will be completed in the course of 2020.
A new vice president
Last week, Robert Hadley was named vice president of First Bank. He coordinates a number of strategic lines such as IT, Organization and Management of Processes and Operations, Loan Management and Logistics. Hadley will supervise much of the digitization projects to be deployed by the bank in 2019.
His experience of over 25 years in Australia, Asia, Europe and the Middle East, the retail, financial and trade markets, recommends him as a true expert in the international banking industry.
"By co-opting Robert Hadley into the Bank's management team, we provide both an extra capital of experience and a solid vision. Under his coordination, we want to make the company's operations more efficient, focusing on technology and digitization," said Bruynseels.
Robert Hadley joined First Bank after completing the contract with Aljazira Bank in Saudi Arabia, where he served as Chief Operations Officer / COO between 2013 and 2018. Here he helped grow the company in three directions: technological transformation operations and infrastructure, upgrading retail operations and increasing the skills of the local management team. Under its leadership, the company's profit rose significantly between 2012 and 2018, reaching EUR 277 million.
He is a well-known banker in Romania, in the light of the experience gained between 2005 and 2012 at ABN Amro / RBS Bank Bucharest as COO. He has coordinated activities related to technology, operations, retail, and skills development of the operations management team. Hadley also led the rebranding process for the transformation of ABN AMRO into RBS at that time.
Hadley holds an MBA degree from Macquarie University in Sydney, Australia, 1994. He is Chartered Accountant, a member of the Australian Institute of Chartered Accountants since 1982.