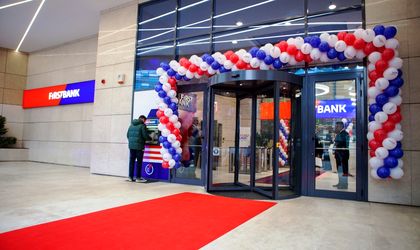 First Bank, owned by the US investment fund J.C. Flowers & Co. completed the acquisition of the majority stake in Bank Leumi Romania, subsidiary of Bank Leumi Israel, after obtaining the necessary approvals from the Romanian National Bank and the Romanian Competition Council and after meeting the specific conditions of this type transaction.
"We are delighted to enter this new growth stage. We sincerely welcome all the new opportunities that derive from this reference event: the know-how of our colleagues from Bank Leumi Romania, their experience in managing a very special portfolio, the customers of this bank, whom we look forward to serving. In the coming months, the two companies will undergo a pre-merger integration process. We are convinced that this acquisition will transform First Bank into a stronger and more relevant banking partner for all our current and future customers through Bank Leumi Romania's contribution to our previous expertise," said Dominic Bruynseels, Executive Chairman of First Bank.

"Bank Leumi Romania's sale to First Bank, owned by a top international financial entity, will allow the continued follow-up of Leumi's" customer follow-up "policy, which involves collaborations with major international actors rather than an effective presence. This sale is a new step in the implementation of our strategy to focus on Leumi's core banking activities, while focusing on our international operations in the major financial centers of the world through our subsidiaries in the US and the United Kingdom Britain," said Hanan Friedman, First Executive Vice President, Director of Strategy, Innovation and Transformation, Bank Leumi Israel.
Clifford Chance Badea acted as legal advisor to First Bank as part of the transaction, and Ernst & Young was the financial and fiscal consultant. Bank Leumi Romania Legal Consultant in this transaction was DLA Piper. Jefferies LLC was the exclusive financial adviser of Bank Leumi Israel.
As of July 10, Bank Leumi Romania has a new Board of Directors and a new Executive Chairman, Ion Popovici.
Ion Popovici is a professional with over 28 years experience in the banking sector. During this period, he held top positions at major banking institutions in Romania, such as Eximbank, BRD-Groupe Societe Generale etc.
Prior to being appointed Bank Leumi Romania's Executive Chairman, Ion Popovici has held the post of Executive Vice President of Finance / Interim Executive President of the Bank for the past year and a half, and has coordinated the entire activity of the organization with direct responsibilities on strategic areas, , treasury, legal activity, human resources, accounting, reporting to the Group, reporting to the NBR, financial statements, budget control and operations.
Popovici held a number of roles and responsibilities in organizations related to the banking sector such as the Romanian Banking Institute and the Romanian Banking Association. In this context, he acted as an author, lecturer, professor, as well as as a financial consultant, with a significant contribution to the implementation of IFRS in the Romanian banking system.
Popovici is a member of the Board of Directors of the Romanian Banking Association since 2017.
Ion Popovici is a graduate of the Academy of Economic Studies, the Faculty of Finance and Accounting, and of the National School of Political and Administrative Studies, Faculty of Administrative Sciences in Bucharest.
The composition of the new Board of Directors is as follows:
Ilinca Rosetti, President
Ilinca Rosetti is currently Operating Partner at JC Flowers & Co.
She has an international 14 year experience in banking management, corporate banking and financial development cooperation in Central and Eastern Europe.
Rosetti was the CEO of Mirabank Serbia, a subsidiary of the Royal Abu Dhabi Group, where he successfully secured the start of operations of the only specialized banking bank on the Serbian market.
She has run ProCredit Bank Romania for five years between 2010 and 2015. From the position of CEO, she has responsibilities such as general bank development, designing, implementing and developing positioning strategy, and redesigning the entire organizational structure of the bank. Previously, Ilinca Rosetti was Deputy CEO (2007) and then CEO (2007-2010) of ProCredit Bank Moldova.
Ilinca Rosetti graduated from J.W. Goethe of Frankfurt am Main is licensed in Mathematics and Economics (1997 and 2001 respectively). Ilinca Rosetti is Doctor of Economic Sciences, Bucharest Academy of Economic Studies, 2007.
Robert Maxim
Robert Maxim, currently Partner of Ensight Management Consulting, has over 20 years of experience in management consulting. He held leading positions in large companies. He was Head of the KPMG Consultancy Department and e-Business Head at Citibank Romania.
Robert Maxim is Certified Management Consultant (CMC) and Auditor of Computer Systems Certification (CISA).
He graduated from the Faculty of Political Sciences of the University of Bucharest, obtaining a degree in International Law, as well as a Diploma in Financial Management at the International Business School in Bristol (UK). He also graduated from the MBA program at the Ecole Nationale des Ponts et Chaussees in Paris (France).
Manfred Rauchwerger
Manfred Rauchwerger is a senior banking industry with nearly 46 years of high level experience in the Romanian and international banking market.
He dedicated his career to the Leumi brand, as vice president and advisor to Bank Leumi Israel and Bank Leumi Romania. It has extensive expertise in sales, retail private banking and capital markets.
He joined Bank Leumi Romania in 2006 and, during this period, he managed important segments of the Bank's business.
Manfred Rauchwerger is a graduate of the University of Haifa, a graduate of the Economics.
Răzvan Filcescu
Razvan Filcescu is a professional with more than 20 years of experience in the financial and banking sector. He currently holds the vice-president role in First Bank, subject to approval from the NBR. With extensive banking experience in companies such as Procredit Bank and Credit Europe Bank, Răzvan started his career as a credit officer and constantly evolved into leading positions with deep involvement in the construction of a commercial bank . In recent years, his work has focused on lending to microenterprises and SMEs, as well as on specific debt collection and workout activities. Răzvan graduated from Bucharest Academy of Economic Studies, being licensed in Banks and Stock Exchanges.
He also holds an MBA in Financial Management at City University in Seattle.
Bogdan Ciobotaru
Bogdan Ciobotaru held the position of Finance Director for Central and Eastern Europe, Middle East and Africa at Renaissance Capital. Previously, Ciobotaru served as Chief Executive Officer of Morgan Stanley London's Investment Banking Division, where he worked for over 10 years. Since 2017, he is the independent, non-executive director of Digi Communications N.V. Bogdan Ciobotaru is also non-executive director of Qatar Solar Technologies and non-executive director of the Board of Directors of First Bank. Ciobotaru graduated from the Academy of Economic Studies in Bucharest and holds an Executive MBA at Oxford University.
Headquartered in Bucharest, First Bank offers a wide range of products and services to both local and international clients, including retail, SME and corporate banking. First Bank operates through 59 branches with 1200 dedicated employees and has approximately 130,000 active clients