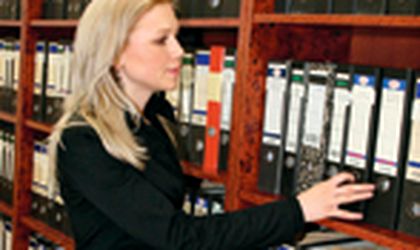 On a scale from 1 to 50, the US debts collection market is 1 and the European market is 45, said Ina Moldoveanu, communication manager at Urban si Asociatii (U&A). "For companies in the debt collection business, the Champions League is the US," she said. Still, in 30 years Europe will outdo the American market in economic value, Moldoveanu added, which is why U&A intends to make Europe its home turf.
"We think that companies from states that have just joined the European Union, as is our case, will grow and become European leaders in debt collection. There are countries such as Portugal and France where this business is utterly undersized, which is why U&A made its main objective to expand in Europe," said Moldoveanu.
The first countries on the firm's radar are Holland, Italy and Austria. The total cost of expansion is approximated at EUR 250,000, including set-up investments, official records, offices and staff wages this year.
In Romania, U&A has more than 9,000 clients and 1.5 million cases in its portfolio last year with a total value of EUR 500 million. The estimated number of customers for this year stands between 12,000 and 14,000. The firm will also open at least 30 new offices in Romania this year.
Smaller-sized companies in the business are equally eager. "This year we plan to take our services to ten European countries and open five offices around the country," said Marius Coltuc of the Coltuc law firm. Regional and national in-field presence is doubled by auxiliary strategies that will boost company business on the EU market.
U&A spent EUR 100,000 on the biggest news website in Europe covering the debt and debtors business. The company will add EU language mirrors to it including English, German, Italian, French and Spanish starting May 1.
"Together with Oracle, we want to create a search engine similar to Google that will find data on liabilities and debtors and will be used by businesspeople, individuals, the police, prosecutors and fiscal authorities," said Moldoveanu. Sections dedicated to countries in the Arab world and the Asia-Pacific areas will also be added to it.
State debt certificates will further fill collectors' pockets
The national market is bubbly, swiftly growing and about to get even bigger. "We approximate the market at about EUR 15 billion, including both private and public, budget-related sectors in Romania," said Moldoveanu. National budget debentures so far have not been entrusted to private collection companies, but this will hopefully change starting this year and up companies' profits, said the U&A spokeswoman.
What's more, the business will further thrive once the Credit Bureau becomes a public registry comprising reports from banks as well as other commercial entities in Romania and its database is open for public interrogation. "The number of cases when debt collection is amiable will go up spectacularly," said Moldoveanu.
Even as it is, the evolution trend is upward – both in the total value of contracts and their number.
"The growth rate for our company was 75 percent in 2006. This year, we approximate it at minimum 150 percent considering the number of contracts we have already signed in the first three months of the year," said Marian Toader, administrator at Lexgrup Consulting. He expects the number of clients to triple in 2007 over 2006.
"The number of our clients will go up 200 percent this year… With Romania's accession to the EU, I foresee a 200 percent growth of the entire market compared to 2006," said lawyer Marius Vicentiu Coltuc of the Coltuc law firm. He was referring strictly to the external debt collection activity, a market which he evaluated at EUR 400 million.
"In 2006 we had about 300 clients, but their numbers will double this year," said Ion Iliuta, associated partner with the Kolcze Iliuta & Asociatii law firm.
"More and more companies are starting to outsource this activity and turn to specialized companies. We are talking about big companies, with relatively many clients, who consequently issue many invoices," said Iliuta.
Value-wise, the debt collection business is increasingly driven by the construction sector, said market leader U&A.
"We approximate the growth rate in total deal value at more than 65 percent, due to the extremely high value of real estate investments. This year alone, a large real estate developer increased the value of the debts we have to collect by EUR 25 million," said Moldoveanu.
"Numerically, retail brings in most cases, while utilities are stagnating," she said. "The numeric growth comes from the retail and telecom sectors. The number of debtors in the utilities sector – energy and gas – is approximately unchanged because there have been no major investments in expanding national distribution networks," said Moldoveanu.
All in all, there are plenty of deals to go around. "When taking debts to the state into account, collection companies handle under four percent of the total market, which is good news because it means we have an enormous market to tap into," said Moldoveanu.
State debts aside, only 25 percent of the businesses enter company portfolios, and that is especially apparent as most lack in-field presence, she said.
Other operators have even more radical views on the business segment handled by specialized companies.
"Nationally, the percentage of liabilities managed by debt collecting companies stands at roughly one percent. The market is extremely large, but the biggest debts are either to the state budget or to state companies, which rarely agree to collaborate with specialized operators," said Toader of Lexgrup Consulting. He added that the one-percent level is normal for a market that is relatively new.
Ana-Maria David