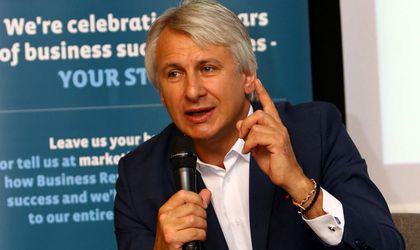 The Ministry of Finance has announced that the minister of finance, Eugen Teodorovici, was named president of the Council of Governors of the European Investment Bank (EIB) for a one year mandate.
The appointment decision was taken during the annual reunion of EIB officials held in Luxembourg. Teodorovici serves as the governor of Romania within the EIB structure.
"Solidarity and convergence will represent the main pillar of the bank's actions within its financing policies. In the same time, together with the EIB, we will work towards improving the management of financial/non-financial risks and for the adoption of measures needed for compliance to the best practices in the banking sector," said Teodorovici in a statement.
The presidency of EIB's Governing Council is ensured by each member state by rotation. The EIB works with other EU institutions, including the European Commission, the European Parliament and the EU Council.
The total investment of the EIB Group (the European Investment Bank and the European Investment Fund) in Romania in 2017 was EUR 1.87 billion. Close to EUR 1 billion went for infrastructure projects, while another EUR 624 million in financing targeted the small and medium-sized enterprises.