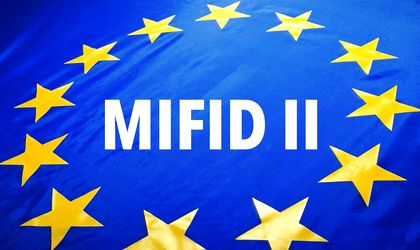 MiFID II regulations replaced from 3 January 2018 the existing Markets Markets Directive, that was in force since November 2007. But it was only now published in the Official Gazette, according to the Financial Supervisory Authority.
The new law aims at improving investor protection, increasing market transparency by expanding pre and post-trade requirements, promoting trading and clearing competition.
"One of the fundamental objectives of the ASF is to protect consumers and investors, and the new legislative provisions offer a new perspective in this respect, beneficial to those who invest in the capital market," said ASF President Leonardo Badea.
The law introduces new elements such as a new trading structure and new concepts like algorithmic trading or high frequency algorithmic trading. Also, the list of financial instruments expands with a new category – greenhouse gas emission certificates and derivatives.
"The impact of the new provisions it will be a significant, changing the market architecture and the way the transactions are carried out. The normative act completes the legislative framework, outlined in the last five years governing the instruments and investments sector financial," said ASF Vice President, Mircea Ursache.
At the same time, new entities will be set up as a result of the extension of transaction reporting obligations: Approved Publication Mechanism (APA), Centralized Reporting System Provider (CTP), Approved Reporting Mechanism (ARM). Also, for commodity derivatives markets, provisions are made for reporting positions, reducing systemic risk and speculative activity by quantitatively limiting holdings of positions.
The law no. 126/2018 for financial instruments markets, which transposes the provisions of Directive 2014/65 / EU of the European Parliament and of the Council of 15 May 2014 on markets in financial instruments and amending Directive 2002/92 / EC and Directive 2011/61 / EU (MiFID II), is to enter into force 10 days after its publication in the Official Gazette of Romania, which is the beginning of July.
At the end of January 2018, the European Commission requested that Romania and ten other Member States (Bulgaria, Croatia, Greece, Latvia, Lithuania, Luxembourg, Poland, Slovenia, Spain and Sweden) fully implement in their national frameworks the Revised Directive the markets for financial instruments (MiFID II Directive 2014/65 / EU), according to a communiqué from that date of the Community Executive.
Directive 2014/65 / EU, MiFID II, together with a Regulation (EU) 600/2014, MiFIR] was adopted following the financial crisis in order to contribute to more transparent, competitive and integrated financial markets in the EU to ensure that there is less transaction volume outside regulated markets, and greater protection for investors and consumers and, ultimately, to enhance financial stability.
The new directive profoundly transforms the rules governing operations with different types of financial instruments in Europe with the aim of improving transparency and reducing costs for investors. Banks will have to send more information to supervisors and develop clearer charging systems for their different products.
Transactions in shares, bonds, derivatives and other assets must all be declared to the data reporting service provider, which will provide regulators with the necessary data to supervise and identify the formation of speculative bubbles in order to avoid a repeat of a similar crisis from 2007 to 2009.
With the entry into force of MiFID II, fund managers and other market players will have to report up to 65 bits of data in the first 15 minutes following a transaction, otherwise they risk being fined.