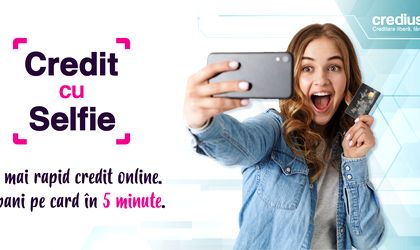 Romanian startup Qoobiss has provided the automated KYC technology for identity verification via selfie, offered by non-bank financial institution Credius, in order to ensure the fastest credit loan process on the Romanian market.
Credius has launched the credit by selfie product for its clients with the help of the advanced identity verification technology provided by Qoobiss, which facilitates the fastest onboarding process for financial users. The fully automated Know-Your-Customer (KYC) solution, created by Qoobiss has helped Credius significantly reduce the time necessary to verify users' identity to less than 3 seconds, via a simple selfie through the biometric analysis technology called "liveness".
"Through this partnership with Qoobiss, the time required to fill in the online application for a fully automated online loan offered by Credius has been significantly reduced to less than 30 seconds, and the time spent by users for their identity verification process has decreased from a minimum of 5 minutes for video verification, to 3-5 seconds needed to take an ID picture and selfie. Thus, the biometric analysis of the data has considerably improved the quality of the registration process for our customers, and the security of the verification process has been greatly optimized, being very well received by our users," said Andrei Buzgan, CEO of Credius.
—
"With the Qoobiss technology, Credius automatically verifies customer identification data in a much simpler and efficient way, via a selfie photo, when a new online account is created. Our software scans the document, extracts customer's data, performs an instant verification of the user's identity and validates the identity document, maintaining the complete confidentiality of the information, "said Alexandru Rizea, CTO at Qoobiss.
Qoobiss empowers companies to verify the identity of their customers in a much more efficient way, 100% online. Thus, the automation and efficiency of the KYC process supported by Qoobiss has helped Credius ensure a simple and fast process for the online registration of its customers, through a simple selfie, in order to streamline the process of providing credit loans within minutes of starting the process. According to the company's experts, the automatic identity verification software offered by Qoobiss is much more secure than remote video identification, because it also significantly reduces the possibility of fraud and processing errors.
The KYC software developed by Qoobiss is designed to be easily scalable for a large number of users, fast to deploy and 100% online. The identity verification process offered is automatic and built to streamline the process of enrolling new customers, with the help of the latest biometric technologies, controlled by artificial intelligence.