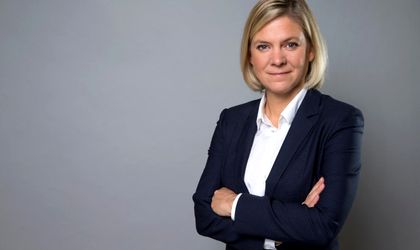 While Romania still doesn't have a reliable, easy-to-use online system for taxes and taxpayers are always complaining about the existing infrastructure, Sweden is one of the most advanced countries when it comes to this process, so BR caught up with the country's Finance minister Magdalena Andersson at the Economic and Financial Affairs Council in Bucharest (ECOFIN), and she briefly described the incredibly easy process available for taxpayers in Sweden, who can pay their taxes just by sending an SMS.
Romania has been struggling for years to have a functioning system for paying taxes online. What's your advice for Romania on this matter?
I can say what we did in Sweden – what is important is that all the information goes directly from employers and banks to our tax authority and they can generate pre-filled out forms for taxpayers who can just send an SMS and confirm that the information is correct. So it's very practical and easy and this has made the tax authority be one of the most popular public agencies in Sweden.
How long did it take Sweden to develop this system and how much did you invest?
It has been a process. The first important step is that information goes directly from employers and banks to the tax agency. Investments have been made over a very long period of time so I can't be sure of the exact amount.
Although some taxes can be paid online in Romania, the system doesn't always work the way it should and taxpayers who think they've done all that was necessary suddenly find their accounts are blocked and have to run around between public institutions to prove that they've paid the tax and get them to lift restrictions.
Romania's Finance Ministry and the World Bank started work on a project to reform and upgrade the fiscal agency (ANAF) in 2013, but the Ministry notified WB in 2018 that they weren't interested in continuing the contract, which means that it has to return the EUR 18 million that was spent so far and give up on the other EUR 52 million that would have been available through the contract, according to Newsweek.