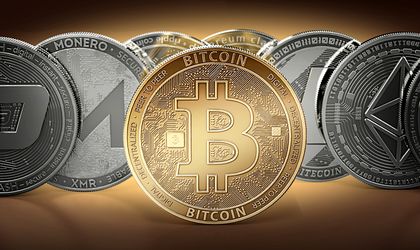 Although the cryptocurrencies industry is not regulated in any way in Romania, more individuals say they want to be part of the phenomena and buy some of the most popular digital currencies that are trading at present at global level.
The interest for cryptocurrencies remains high in Romania and even the head of the central bank made a rate comment about this kind of investments.
For starters, the governor of the National Bank of Romania, Mugur Isarescu, suggested that the cryptocurrencies will never be treated as actual "money" because it's not clear what entity issues these currencies. However, Isarescu underlined that the technology behind the digital currencies has to be explored further.
Meanwhile, a survey of iSense Solutions revealed that 57 percent of Romanians in the urban area had head of cryptocurrencies. The coins with the most awareness where Bitcoin (54 percent), Bitcoin Cash (19 percent), Ethereum (11 percent), Litecoin (10 percent) and Ethereum Classic (7 percent). The study published this spring also showed that 17 percent of Romanians in the urban area were planning to buy cryptocurrencies in the next 12 months, while 30 percent believe this is the future in the payment industry.
Less than 10 percent of the 500 surveyed individuals said they acquired cryptocurrencies in the past 12 months.
At international level, Romanians seem to be very enthusiastic about the future of the cypto market. A report by Dutch banking giant ING revealed that fewer than one in 10 Europeans currently own cryptocurrency, however 16 per cent of people expect to own them in the future.
In the report, Romania comes second after Turkey in terms of potential growth for ownership of cryptocurrencies. The data revealed that 12 percent of the respondents owned cryptocurrencies, while 26 percent expect to own such a product.
The Belgians, Australians and Americans have among the lowest scores when it comes to cryptocurrencies' ownership or plans to make such as purchase. The bank surveyed 15,000 persons across 13 countries. One of the conclusions was that 15 per cent of respondents said they would consider receiving their salary in Bitcoin or other cryptocurrencies, despite their notorious volatility.
Teunis Brosens, an economist of global markets at ING, suggested that cryptocurrency holds the most promise in countries where the traditional financial system is less efficient.
"We find that the Dutch, with a very efficient and cheap domestic payment system, are most sceptical about the future of digital currencies," he said.
If we take a look at Bitcoin, Romanian has only six ATMs for the digital currency, compared to The United States with 1,645 machines, Canada with 432 ATMs and Austria with 141.
Mining Bitcoin in Romania might also look like a bad choice if we consider the electricity costs.
The cost for mining one bitcoin stands at more than USD 10,000 in Romania, while the market price of one Bitcoin is over USD 6,100.
Photo source: Dreamstime.com.