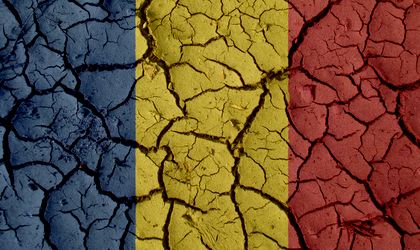 Like every other country in the world, Romania is facing one of the biggest crises of the last few decades, lacking the resources it needs to respond to the health emergency. But the toll the coronavirus will take on the country is difficult to predict, as economic forecasting is currently subject to substantial uncertainties ranging from the duration and severity of the SARS-Cov-2 outbreak to the post-corona-crisis developments.
By Sorin Melenciuc
For our generation, the coronavirus, this Black Swan coming from the East, has the potential to change our lives forever. "Humankind is now facing a global crisis. Perhaps the biggest of our generation. The decisions people and governments take in the next few weeks will probably shape the world for years to come. They will shape not just our healthcare systems but also our economy, politics and culture," famous writer Yuval Noah Harari wrote in the Financial Times on March 20.Historically, almost every generation has experienced a major disruptive event. Our great-grandparents' generation fought in World War I, our grandfathers spent their best years in the trenches of WW2, while our parents experienced Communism and the fall of the Iron Curtain.
Uncertain but frightening impact
Romania had already entered 2020 in a bad economic shape, with huge twin deficits, high financing needs, crippled infrastructure, a workforce crisis, and political turmoil. But the global downturn triggered by the new coronavirus adds a lot of pain to this already tough state of affairs. And the first forecasts indicate a very high impact from the coronavirus crisis.
"While we still don't have enough data to assess the economic impact, the first estimates we're getting from confidence surveys and economic players converge towards the same conclusion: in the course of only a few weeks we will experience a contraction that normally would have taken several bad years to materialise. Considering that a -4 percent contraction in Germany has become the most optimistic scenario, and that France is losing roughly the equivalent of 3 percentage points of GDP with every month of lockdown, Romania's position is unlikely to look any better," explains Valentin Tataru, economist at ING Bank Romania.
According to the International Monetary Fund (IMF), infectious diseases and the associated mortality remain a significant threat across the world. A recent study estimated the global yearly cost of pandemic influenza at roughly USD 500 billion (or 0.6 percent of global income), including both lost income and the intrinsic cost of the elevated mortality. But the cost of the SARS-CoV-2 outbreak already seems to be much higher. In Romania, as well as in other countries, the biggest impact is estimated to emerge in the second quarter of this year.
"The magnitude and rapidity of current developments is unprecedented. (…) We believe that GDP contraction will begin in 1Q20 and estimate a -1.3 percent drop vs 4Q19 (+1.7 percent vs 1Q19), despite the probably strong first two months. The bulk of the current anti-pandemic measures will be visible in 2Q20, where we see a -19.7 percent contraction vs 1Q20 (-19.1 percent vs 2Q19), with the main drags coming from industry and trade," Valentin Tataru estimates.
This projection assumes a gradual re-opening of the Romanian economy starting in late May. According to this forecast, by the end of June, conditions to restart growth engines will be met, prompting a third quarter advance by 17 percent vs the second one. "We see GDP contracting by 6.6 percent in 2020, with a second quarter to forget, followed by a less pronounced "V-shaped" recovery than previously expected," ING Bank analyst said. However, this sharp decline in 2020 could create quite a strong carry-over effect for 2021, when ING Bank sees Romania's GDP accelerating by 7.1 percent.
The cost of the coronavirus crisis to the national budget also looks to be very high. "We are therefore pinpointing a -7.9 percent budget deficit for 2020, acknowledging that there are many unknowns at this stage," Valentin Tataru notes. However, analysts warn that economic forecasts have become even less of an exact science in these turbulent times.
"In all fairness, we are facing an unprecedented situation, with a sudden large-scale shutdown of almost all economic sectors, for reasons that go beyond – and in fact have nothing to do with – economics," Tataru added.
Large structural break in the economy
Some analysts are betting on a smaller impact, but they also point out that uncertainties are still too significant to make decent predictions.
"For the whole year, we estimate a contraction of -4.7 this year to Romania's GDP. This will deteriorate the already weak public finances, with the budget deficit likely to widen to -7.3 percent of GDP," Ciprian Dascalu, chief economist at BCR, wrote in a research note. "The lockdown in response to the coronavirus outbreak is likely to lead to major losses in most economic sectors," he added.
However, economists underline that out of all the scenarios they have looked at, the current one seems to have a probability above 50 percent, though things can change rather quickly and render the forecast obsolete.
Rating risk
But beyond its domestic troubles, Romania is also hit by the collapse of external demand, as BCR's GDP forecast for the Eurozone – Romania's main trading partner – is a -3.5 percent contraction this year. Romania also risks being hit by a rating downgrade that will limit its financing options.
"Pre-coronavirus crisis, rating agencies were looking beyond the electoral cycle for fiscal consolidation measures aimed at preserving Romania's investment grade. It remains to be seen if their approach changes after the virus outbreak and the subsequent sharp deterioration in the short-term growth profile and debt metrics," the BCR chief economist says. "We believe that the downgrade risk is materially higher due to the COVID-19 crisis. This risk is starting to get priced-in by credit markets," he added.
The post-coronavirus economy
Most economists are trying to envision the post-COVID-19 world, but the picture is still unclear. "Recovery is likely to be sharp initially given the very supportive fiscal and monetary conditions both domestically and abroad with the aim of limiting the duration of the demand shock as much as possible. The full recovery will take a few more quarters as some companies will not survive the shock and it could take a while for others to get back to full capacity and go through the rehiring process," Ciprian Dascalu predicts. Most economists are betting on significant GDP growth in 2021, the year that could mark the starting point of the global economic recovery.
"The recovery is likely to continue in 2021, which we expect to post a 3.9 percent y/y GDP growth, also benefitting from a favourable statistical base effect and assuming some fiscal consolidation partially offset by accommodative monetary policy stance," Dascalu indicates.
Unemployment threat
But BCR economists warn that unemployment in Romania is likely to be sticky and that the full recovery of the lost jobs could take more than a year. According to the Labour Ministry, more than 400,000 Romanian employees temporarily lost their jobs due to the coronavirus outbreak in March, but the total effect on jobs is difficult to predict. However, the global impact of the coronavirus is likely to limit the depreciation of the Romanian currency.
"We maintain our year-end forecast for the EUR/RON at 4.88 and inflation at 2.5 percent. All in all, we believe that the BNR will be able to keep things under control due to its still large foreign exchange reserves, but pressures for something to give in will remain," ING analysts write. This forecast is consistent with market consensus, which sees the Romanian currency depreciating at a controlled pace this year. BCR analysts estimate EUR/RON at 4.90 by year-end, slightly higher than previous forecast, while other economists expect a slightly higher depreciation.