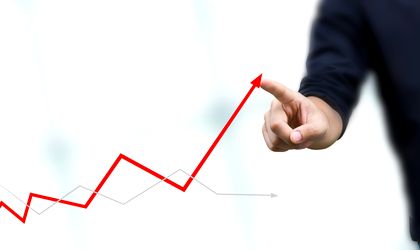 The European Commission's latest forecast for Romania's economic growth indicates a drop to 3.8 percent, from the 4.5 percent previously estimated in the spring of this year. 
Private consumption, the main contributor to growth, appears clearly to be weakening. This stems from persistently high inflation, mainly due to energy prices, and the fading out of public
policies directed at increasing disposable income.
Import growth remains dynamic, despite softening private consumption, while exports are slowing, rendering net exports a drag on real GDP growth. In 2019 and 2020, private consumption is forecast to slow down further as nominal wage growth moderates and inflation continues to weigh on real disposable income. It will nonetheless remain the main driver of growth. Investment is expected to increase its contribution to growth on the back of an increase in non-residential construction.
Overall, real GDP growth is projected to amount to 3.8 percent in 2019 and 3.6 percent in 2020. The output gap, which turned positive in 2017, is expected to narrow over the forecast horizon.
Imports are projected to continue rising at a higher pace than exports in 2019 and 2020.
Accordingly, net exports will again make a negative contribution to real GDP growth. The current account deficit is set to continue increasing steadily as the trade balance widens from 3.7 percent in 2018 to 4.5 percent in 2020.
The labour market continues to tighten 
Unemployment in Romania fell to a new historical low of 4.3 percent in spring 2018 and is set to stay at a broadly similar level over the forecast horizon. The tight labour market conditions suggest that wages should continue to grow, with some expected spillovers from the public to the private sector, but the pace will likely slow.
This should reduce pressure on unit labour costs, which are nonetheless forecast to rise moderately in 2019 and 2020. Real wage growth, however, is expected to moderate significantly in 2018, due to higher inflation.
Headline inflation continued to grow at a strong pace in spring 2018 as the effect of a cut to standard VAT rates and excise duties on fuel, made in January 2017, faded away. The decision to reverse those cuts in October 2017, added further fuel to the figures. For 2018 as a whole, inflation is forecast at 4.3 percent, while in 2019 and 2020 it is expected to fall to 3.5 percent and 3.3 percent respectively on account of weakening domestic demand.