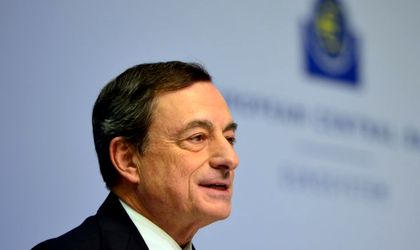 Mario Draghi said risks to the euro-area economy remained "broadly balanced" despite recent surveys suggesting the outlook may have darkened, according to Bloomberg.
"Incoming information, while somewhat weaker than expected, remains consistent with base case scenario of ongoing broad-based expansion of the euro-area economy and gradually rising inflation pressures," the European Central Bank president told reporters in Frankfurt. The "underlying strength of the economy continues to support our confidence" in the gradual convergence of inflation toward the central bank's goal.
As the ECB winds down its stimulus program, there are signs that expansion in the euro-area is starting to lose steam under the strain of global trade tensions. Domestic economic momentum weakened further toward the end of the year and the list of risks continues to grow — from the stand-off over Italy's rule-busting budget to U.S. protectionism and a potentially disorderly Brexit.
Draghi spoke after the Governing Council confirmed it still expects to cap bond buying under its 2.6 trillion ($3 trillion) asset-purchase program at the end of the year. It reiterated plans plans to keep interest rates at the current record lows through the summer of 2019. The first increase could come in September, according to economists surveyed by Bloomberg.