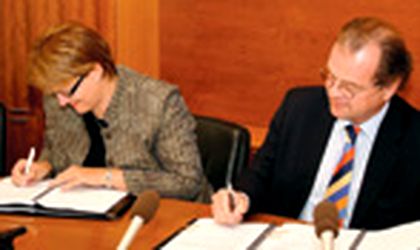 Gacek left the position in Romania on September 1st to take the helm of the EBRD's office in Belgrade.
The former deputy director Serban Ghinescu is acting as an interim director until the replacement is appointed.
The bank's new strategy will be adapted to the post-accession climate, said Descamps, with a special focus on energy efficiency projects and rural development. In line with that, the EBRD offered a EUR 2.25 million loan to the non-banking institution Express Finance, which will for micro and small enterprises, especially those located in rural areas.
The agreement comes under the EUR 88 million Romania micro credit facility launched by the EBRD, the European Union and the Romanian administration last year with the aim to provide lending to non-bank microfinance institutions and commercial banks catering
to the MSME sector, said EBRD reps.
The loans, ranging from EUR 1,000 to EUR 25,000, will be used particularly to support rural farmers and small companies that do not have enough access to finance.
"Our company has developed and implements six different loan products for private entrepreneurs. This facility gives us the opportunity to try and develop new ones that fit our clients' needs better," said Dan Orodan, deputy general manager of Express Finance.
Ana-Maria David